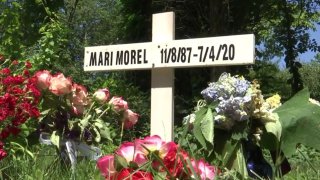 Fairfield police have arrested a driver accused of hitting and killing a woman and fleeing the scene on Saturday.
The victim, 32-year-old Marileidy Morel Araujo of Matamoras, Pennsylvania, was visiting family in the area and walking her dog when she was hit by a pickup on Redding Road Saturday night. She died of her injuries.
Police initially said they were looking for a Jeep Wrangler, but investigators said surveillance showed the suspect vehicle was actually a white Dodge Ram pickup.
The suspect has been identified as 22-year-old Declan Kot of Easton. He was charged with misconduct with a motor vehicle, evading responsibility in operating a motor vehicle resulting in death, failure to drive in proper lane, operating a motor vehicle without fenders, tampering with evidence, operation of a motor vehicle with tinted windows without tinting sticker, and operation of a vehicle with tinted windshield.
Kot was arrested on Wednesday and released on a $150,000 bond, with a condition not to operate any motor vehicle pending arraignment. He is scheduled to appear in court on July 15.