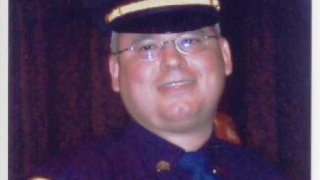 In the two months since New Haven Police Sergeant Dario Aponte was killed in the line of duty, fellow officers have been there for his widow, Officer Donna Aponte.
Tuesday night, the officers threw a fundraiser at New Haven's Van Dome and Donna Aponte spoke with NBC Connecticut.

"I'm overwhelmed by the support that we have here for my husband, myself. We did a very good job in joining the New Haven Police department because they're like a family," she said.

On Sept. 10, Sgt. Dario "Scott" Aponte was killed after his police cruiser collided with one driven by his colleague, Officer Diane Gonzalez. They were on their way to a call. Gonzalez is still recovering.
Officers said it's difficult for Aponte's widow to go to work every day at the same place she worked with her husband.
They also said they'll never forget him.

"We're here to support her and show that we still remember him, we will always remember him." said New Haven Police Sgt. Tony Reyes.

Reyes named the event "Signal 4" because that stands for "officer needs assistance."