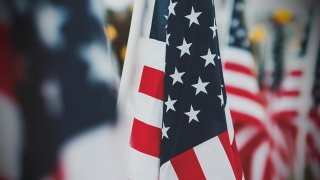 Veterans from Connecticut who were victims of the 9/11 terror attacks and its aftermath were remembered at a memorial ceremony in Rocky Hill on Saturday.
The CT Dept. of Veterans Affairs hosted the 20th anniversary 9/11 memorial ceremony that honored the victims of the terror attacks that day, Connecticut military personnel who fell in action since 9/11 and our state's fallen first responders.
The names of 65 military personnel from Connecticut who fell in the line of duty were read.
Multiple memorial wreaths were placed including one for Connecticut's fallen veterans, one for 9/11 victims and one for fallen first responders.