Police continue to look for the person who hit and killed a Hartford woman with a car and then drove off.
While police have found the stolen vehicle suspected of hitting her, they're still looking for who was behind the wheel at the time.
Saturday night, the family of Sharlene Mansfield imploring the driver to come forward.
"I just can't believe that someone would do my baby sister or any human being like this person did my sister," Rodney Mansfield of Manchester said.
If a picture is worth a thousand words, this one of Sharlene Mansfield says so much.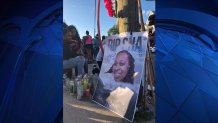 "She was a sweet little sister to me and she wouldn't hurt anybody at all," Mansfield said.
Even in a photo her smile could cheer up a stranger.
Sharlene was a sister, daughter, caretaker and neighbor.
"Just went to the grocery store that day for my mother. As a matter of fact when we got the car back the groceries were still in the car," her brother said.
But Sharlene's life was cut short Monday when a car hit her on Hillside Avenue in Hartford.
The driver never stopped to check on the 55-year-old.
"I just seen her in the air. And you know what, I cried, and I didn't even know her that well," said Carmelo Medina of Hartford, who can't stop thinking of the horror that he witnessed.
He's now wishing he got to know his Hartford neighbor more.
"A warm person. A caring person. And you know what she didn't bother nobody. She just said good morning, good afternoon. This and that," Medina said.
Those who didn't know Sharlene well and those who did are begging for justice.
The slightest bit of closure as they remember person in this picture, "She didn't deserve to leave us like that. No human being deserves to leave like that. Please turn yourself in," Mansfield said.
Anonymous tips can be left by calling 860-722-TIPS.