It wasn't mom's plan and it wasn't what paramedics were expecting, but a crew at American Ambulance delivered a healthy baby boy two weeks ago in one of their ambulances.
It's the first delivery in an American Ambulance — a Norwich-based ambulance service — since Oct. 4, 2014.
"I thought that happened often, but no," said 14-year-old sister Neyshka Cernas. "It's crazy!"
She was in the ambulance with her mom, Marie Rodriguez, at 4:36 a.m. on Nov. 15 when her baby brother Jacob Rodriguez was born.
"I was shocked. I started crying. I can't believe she gave birth in an ambulance that fast," said Cernas, who lives in Norwich with her family.
Paramedic Brittany Leggett brought baby Jacob into the world. Wednesday, they reunited.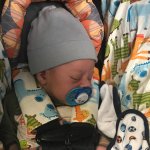 "We were trying like heck to make it to the hospital," Leggett laughed. "But the baby didn't want to wait!"
She said her team had to carry Rodriguez down three floors into the ambulance. As she and her crew were pulling into Backus Hospital, Jacob arrived.
He's Leggett's first delivery. She's only been a paramedic for a couple of months.
"If someone's calling us, it typically means something's wrong. It's not often that we actually get to bring life into this world," Leggett said.
With the help of Jacob's family, American Ambulance posted a stork carrying a blue bundle on both sides of the ambulance he was born in.
The ambulance team showered Jacob with gifts and congratulated mom, dad Geraldo Rodriguez, and his two sisters, two brothers and cousin, all in attendance.
Jacob's brothers even got to see what the inside of an ambulance was like.
Leggett, fellow paramedic P.J. Masterson and East Great Plains Firefighter Christian Tynan all got stork pins to commemorate their work on Nov. 15.