Fans of the UConn women's basketball team made their way to Hartford on Sunday to celebrate the team for winning a fourth consecutive national title and the 11th national title overall.
Some Husky fans started lining up six hours early.
"We love our girls, and we want to support them, and we want the best seats in the house," Andrea Murphy, of Norwich, said.

"You gotta get the best seat, and you gotta get here early," said John Calandrelli, of Enfield, who lined up at 7 a.m. "I've been to a lot of these championship rallies."
"I just love the way they play. They've got so many good players and they just know how to get it done," Judy Vlcek, of Niantic, said.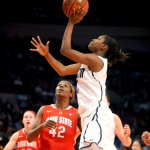 Lia Murphy, of Salem, is such a big fan that she wants to be like the team and become a basketball player when she grows up.
John Calandrelli, of Enfield, wants to be there to see the seniors, whose college basketball careers are ending in such a remarkable way.

I like to see the reaction of the seniors, because girls come and go and that's important to experience their joy because it's so short lived," he said.
Gov. Dannel Malloy said Coach Geno Auriemma and the entire UConn women's basketball team have made our state extraordinarily proud and that's something fans definitely agree with.

Unfortunately, Auriemma could not be there because he was not feeling well.

A statement from the governor's office said no state or city funding was used for this event.

Parade and rally organizers are relying on private donations and business sponsorships to finance the event.