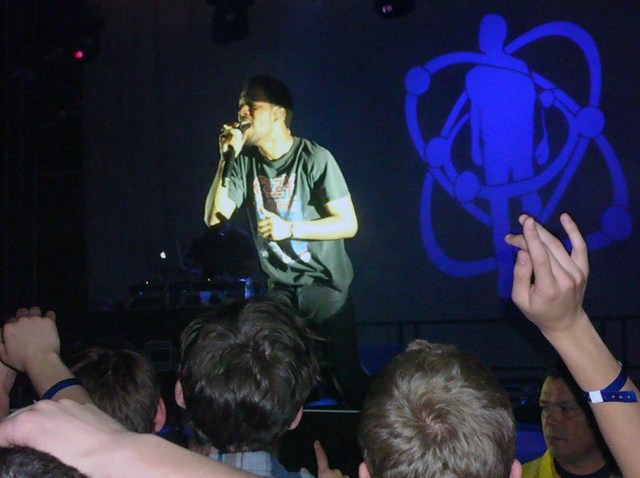 It's 11:45 p.m. on a Saturday night at Gampel Pavilion. Almost every seat of the 10,000-person arena is taken and fans are screaming. However, Jim Calhoun and Geno Auriemma are nowhere in sight. What, if not UConn basketball, could be causing so much hype?
This weekend, UConn welcomed rock-band Jack's Mannequin and rapper Kid Cudi to the middle of their 171,000 square foot arena. The usual fragrance of popcorn and sweat that normally fills Gampel was replaced with the scent of beer and pot, despite the "intense" security checks upon entry.
Kid Cudi's performance was 100 percent worth the seemingly endless delay that fans endured. Waiting wasn't exactly a chore though, Jack's Mannequin's hour-long performance was filled with all of the band's hit songs and an above-par showcase of pianist and lead singer Andrew MacMahon's voice. Crowd-pleasers such as "Dark Blue" and "The Resolution" left fans speechless when MacMahon hit the high notes.
Concert-goers went crazy when Jack's Mannequin ended their song "Kill the Messenger" with a few seconds of "Every Little Thing She Does Is Magic" by The Police and "With or With Out You" by U2. Random, but a great combination.
Toward the end of Jack's Mannequin's set, UConn students became less focused on the band's performance and more intrigued with chugging the last of their smuggled-in rum and cokes.
Shouts of "where is Kid Cudi," and "go home Jack's Mannequin," were heard all around as the impatience of the audience grew.
It took him a full hour and a half to show face on-stage after Jack's Mannequin ended, but Kid Cudi undoubtedly stole the show. Oh well, better late than never. Try telling that to college kids, though. As the alcohol supply began to run dry, the crowd became increasingly cranky and fed-up with Cudi's lateness.
The lights periodically dimmed onstage, suggesting that Kid Cudi's appearance was close, but fans were let down every time.
"This trickery is unacceptable," UConn sophomore Clara Casey said.
When Gampel finally became dark for good, Kid Cudi arrived onstage with a dynamic presence from the beginning. The crowd went absolutely bonkers and immediately forgave Cudi with a standing ovation.
Decked out in an Ozzy Osbourne t-shirt and a constant smile from ear-to-ear, Kid Cudi greeted fans with the chorus to his hit single with Jay Z, "Already Home."
"I think Kid Cudi put on a great show. Every one was dancing non-stop the entire time and the set-list was perfect," UConn junior Ilana Eides said. "But I wish he would have played longer. It was definitely worth the wait though."
Tracks from Cudi's debut studio album "Man on the Moon: The End of Day" set the perfect mood for an unforgettable concert experience. Kid Cudi's intergalactic hip-hop jams such as "Embrace the Martian" and "Up Up & Away" combined with lots of blue strobe lights created a feeling that can only be described as a "rave on Mars." Very trippy!
"Embrace the martian, embrace the martian, I come in peace but I need ya'll rockin' with me, please," Kid Cudi chanted as he jumped around the stage in front of thousands of dancing and screaming fans.
"I'm gonna do this one a capella. It's a new song, so I'm a little nervous. Give me some support," Kid Cudi said as he introduced "That Tree," his new song with Snoop Dogg. The audience complied as cell phones and lighters illuminated Gampel Pavilion.
The audience rapped every word with Kid Cudi as he performed "Pursuit of Happiness," his final song for the night.
Before exiting the stage, a very cordial Cudi plugged his forthcoming album "Cudder and the Revolution of Evolution" one last time and thanked fans for their overwhelming support.