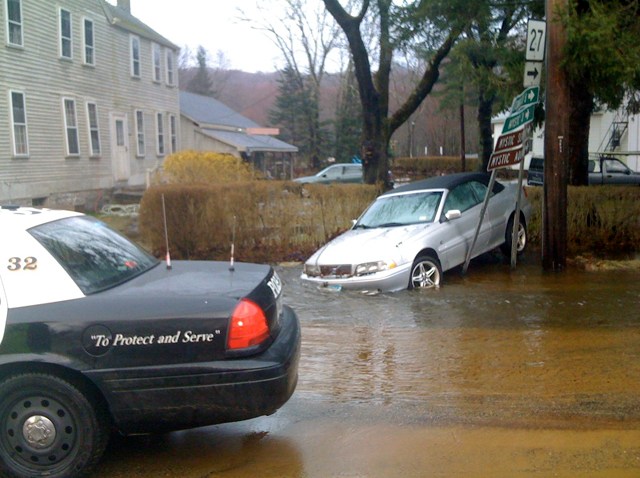 Federal authorities are surveying and investigating the extensive damage from last week's devastating floods in Connecticut.
Officials from The Federal Emergency Management Agency arrived on Tuesday to examine the aftermath of severe flooding, especially in southeastern Connecticut. They will fan out across the state on Wednesday.
FEMA officials visited North Stonington Town Hall, Stonington Town Hall, Norwich City Hall and Plainfield Town Hall and Griswold Town Hall in Jewett City.
In Jewett City, storm damage is taking its toll on roads, businesses and nerves.
The Pachaug River washed over the 1938 bridge, which has been closed for repairs for some time. But it'll cost money to fix Bitgood Road leading up to it. How much money? The town government is still counting, but Jewett City and Griswold told the FEMA assessment workers they've logged $380,000 in damage to roads, bridges, and infrastructure, and are still counting.
"It is still ongoing because much of the both, residential and municipal, the infrastructure damage, could not be determined and still in some cases could not be determined because things are still underwater in many case," said Phil Anthony, (D) First Selectman.
There are many cases of heartbreak, he says, from last Wednesday's extreme weather in Jewett City. With the help of the National Guard, the town was able to pump water away from its 18 million dollar sewage treatment plant.
The plant director showed the 2 FEMA assessors how close the plant came to shutting down. Flood waters did get into the electrical system, but the plant stayed on line.
The assessors also visited City Hall in Norwich and toured damage to town property there, plus Stonington, North Stonington, and Plainfield, but Jewett City's ahead of them in getting residential damage claims in.
20 more people turned in their forms at Town Hall on Tuesday and FEMA will let them do it again on Wednesday.

Gov. Jodi M. Rell announced on Tuesday that residents who are on food stamps who had their food spoiled in the storm should apply for assistance. For more information on that, click here.
"The damage from the floods was truly stupendous – hillsides broken away, homes and businesses left teetering, ordinarily placid streams become raging rivers full of debris," Rell said in a news release issued on Monday.
To obtain federal help, cities and towns must return Preliminary Damage Assessment forms, which will be part of what FEMA uses to decide whether Connecticut meets the criteria for federal disaster assistance.
Last week, Rell urged residents and businesses to quickly report storm-related damage to their local town or city hall.
Property owners should first call their insurance provider to determine whether the damage to their home or business is covered. Uninsured damage and costs should be reported to city or town emergency management or civil preparedness directors.
Take pictures of damage inside and outside your home or business before cleanup and repairs and keep a file with receipts and records of bulky waste pickups, tree removal, replacement items and repair costs.
Rell said they state's goal is to verify that Connecticut has met the federal thresholds -- at least $4.39 million in damages statewide, and damages of at least $837,000 New London County, $4405,000 in Tolland County, $352,400 in Windham County and $501,000 in Middlesex County.
If the state meets these estimates, Rell can request a Presidential Major Disaster Declaration, which would make the state and certain counties eligible for supplemental federal assistance provided to state, local and certain private, non-profit organizations for uninsured expenses as a result of a major disaster.