One person is dead and two others are injured after a fiery crash Monday morning on the Berlin Turnpike in Wethersfield.
One person was pronounced dead at the scene and two others were transported to Hartford Hospital for treatment, police said.
Police are investigating the crash and said, based on the initial investigation, a tractor-trailer hauling an excavator was stopped on the side of the southbound side of the Berlin Turnpike because of a mechanical and two employees were on the side of the road, working on the truck, when a tractor-trailer hauling a boat hit the other tractor-trailer.
Both vehicles caught fire and an employee of the company that was hauling the excavator was killed, according to police. The other employee and the driver of the truck hauling the boat both sustained serious injuries, according to police.
Both sides of the Berlin Turnpike were closed after the crash involving two tractor-trailers in the area of Cumberland Farms at 1855 Berlin Tpke.
Wethersfield, Newington, Rocky Hill, Cromwell and Kensington crews responded to the scene.
Power was out in the area but has since been restored.
State police tweeted around 11:45 a.m. that the northbound side of the road has reopened, but to expect significant delays in the area all day.
Crews have extinguished the fire and smoke billowing from the scene was so thick that it was showing up on radar.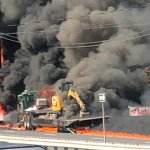 Evacuations were initially ordered, businesses in the area have been advised of the situation and people staying at a nearby motel were sheltered in place, according to police.
The fire department also reported a second fire in the area of Olsen Road.
The accident is under investigation by the Midstate Accident Reconstruction Team. Anyone who witnessed the collision or has information about the accident is asked to contact Officer Gary Luiz at gary.luiz@wethersfieldct.gov or 860-721-3117.