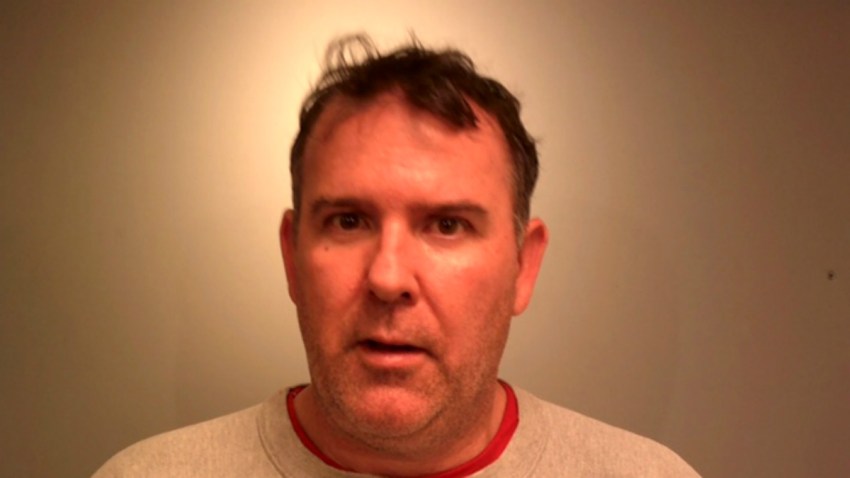 A financial adviser suspected in two bank robberies in East Granby was addicted to pain killers and was $120,000 in debt, according to the court documents.
Kevin Baker, 45, of West Hartford, is accused of robbing the First National Bank of Suffield on Turkey Hill Road in East Granby on Jan. 27 and again Feb. 8.
"I don't want to hurt anyone," he said while brandishing a serrated knife during the first robbery, according to the arrest warrant application. "Give me your 100s."
He walked away with $15,867 and was hunched over in a possible attempt to disguise himself, a witness said.
During the second robbery, he jumped over the counter, held a knife near the tellers and demanded money, according to police documents.
"Let's do this again, you know the drill," he said. "All large bills."
He then made off with $14,539 in cash, police said.
As he fled on Route 10 in Simsbury, police broadcast a description of the vehicle used, a state Department of Energy and Environmental Protection officer pursued him and Baker back up, nearly hitting him, according to police. He almost hit two people as well.
Police said they reviewed the surveillance video and reached out to the state Department of Motor Vehicles about the vehicle and determined similar vehicles were registered to Baker.
An internet search revealed that Baker was listed as being with 4D Private Wealth Strategies and was the regional director for WealthVest, police said. Websites also said he has worked for MetLife, SunAmerica Financial Group and American Skandia Marketing, police said.
According to police, Baker owes back car taxes in West Hartford and people who know the Baker family told police they were having financial problems.
Baker started a financial planning company around three years earlier, after being laid off, and the family had received shut off notices, according to court documents.
People police talked to said Baker was addicted to oxycodone. He'd had four spinal surgeries, was prescribed suboxone and he obtained prescription pads and wrote out prescriptions for oxycodone. A family member also told police that Baker had a problem with oxycodone.
When police spoke with one of Baker's family members, she said they were "deeply in debt," Kevin has sold his wife's diamond for a cubic zirconia and Baker had left the house the day of one of the robberies, saying he needed to pay bills.
Baker also told another family member that he robbed the bank because of financial trouble and used a disguise, so police would not be able to prove he was in the bank, according to police.
Baker, who does not have a criminal history, said he did not want to talk to investigators, according to police.
NBC Connecticut tried to speak with Baker's wife, but she chose not to comment.
Baker has been placed on medical and detox watch and he is scheduled back in court March 8.