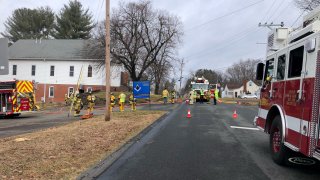 An investigation is underway after a fire at a masonic lodge in Ellington on Saturday.
Firefighters were called to a possible structure fire at the lodge on Orchard Street around 9:43 a.m.
According to fire officials, a passerby called 911 saying they saw smoke coming from below a door.
When firefighters arrived to the scene, they said they found a working fire. Crews made entry and were able to contain the fire at the site of origin.
Authorities have not released details about the extent of any damage.
The building was unoccupied at the time of the fire.
No injuries were reported.
The fire remains under investigation.