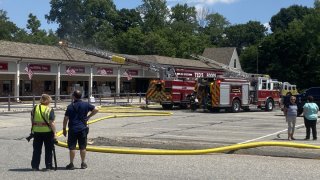 A fire broke out in a plaza in Hebron Monday morning, damaging at least two businesses, according to the plaza owners.
The fire broke out in a package store next to Ted's Supermarket in the plaza on Main Street.
There were about 40 customers and 30 employees in the supermarket at the time of the fire, the owners said. Everyone got out safely, they said.
The entire plaza was evacuated as a precaution.
Firefighters were able to quickly extinguish the fire, but it did cause smoke damage to the supermarket and to one other business, the plaza owners said.
The supermarket was closed for the remainder of the day Monday but will reopen Tuesday.
"Words cannot begin to describe the outpouring of compassion, concern and care we felt from our entire community and beyond, during what was a very difficult day for us, and our business partners in the Village Shoppes," the supermarket said on Facebook.