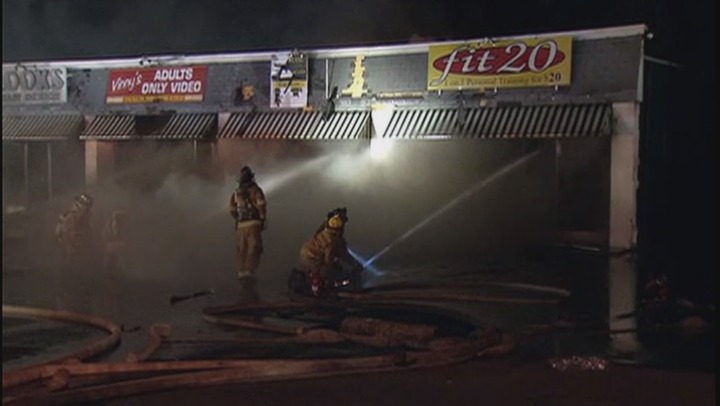 The fire that swept through a strip mall on Boston Post Road near North Street in Milford on Tuesday night, destroying five storefronts and causing the roof to collapse, was accidental.
Firefighters said improperly discarded smoking material caused the blaze, which started in Convenience Junction store and quickly spread into the roof area and traveled throughout the structure..
When crews arrived around 8:30 p.m., thick black smoke filled the neighborhood and flames were shooting from the roof and the roof collapsed shortly after firefighters responded.
Officials said the fire was fueled by what was inside that store, as well as chemicals inside two hair salons and spread to all storefronts, which share a common roof.
The fire grew to three alarms before firefighters stopped it from spreading and damaged a convenience store, Sante's Barber Shop, a hair salon and adult video store.
"I have a single mom that works for me who needs to support her child, I have a daughter myself and nobody gets a paycheck this week. It's bad," Maureen Carlson, owner of Sante's Barber Shop, said.
The building was still smoldering on Wednesday morning and a crew remained at the scene to ensure that nothing sparked up again.
"There were times where people (were) standing across the street and couldn't see the building itself," Capt. Christopher Zak, of the Milford Fire Department, said.
There were no injuries during the fire.