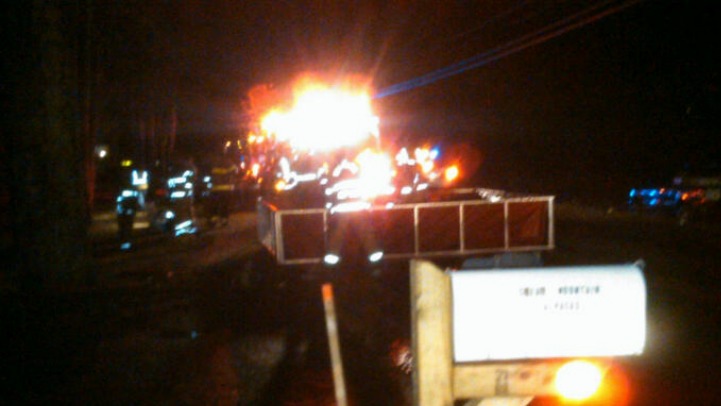 Firefighters spent much of Friday night battling a barn fire at an alpaca farm in Somers. The fire broke out just after 6PM Friday at Clear Mountain Alpacas on Pioneer Heights.
Guy Gingras lives next door and says he heard several explosions and saw flames leaping 30 feet into the air. "I heard bang, a short, a small shot. Then I heard another one bigger. Then I heard one that was extremely big like a big bomb and we looked out the window and the garage was all in flame," said Gingras.
Gingras and his wife rushed over to make sure the Garrow family, which lives at the farm, was okay. "He's very thankful, very thankful nobody was hurt. That's the main thing," said Gingras.
Somers Fire Chief Gary Schiessl says most of the barn was destroyed by the time they arrived. They knocked out the rest of the flames and stayed on scene to make sure the hay inside the barn didn't re-ignite.
"There was about 180 bails of hay within the building so we have to pull those apart and extinguish them individually," said Chief Schiessl.
There are no fire hydrants in the area. Firefighters from Somers and neighboring Ellington shuttled water in with tankers. "It is a challenging scene because of the lack of water here but it's something that's very normal in Somers," said Chief Schiessl.
Firefighters say no one was hurt in the fire. Neighbors say the owners told them all of the animals are okay.
So far there's no word on what caused the fire. The Somers Fire Marshal is investigating.