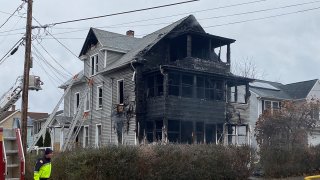 A person was found dead after a fire on Allen Street in Bristol Monday, according to the fire chief.
Firefighters responded to the multifamily home around 10 a.m.
The fire chief said there were reports of a resident inside the building.
Firefighters made an aggressive attack to get into the fire and the truck company that was assigned to search for the suspected victim was unable to find her on the initial attack.
Once they were able to get into the building a resident was found dead.
No information about the person has been released.
One firefighter was injured and has been taken to the hospital after falling down a flight of stairs, fire officials said.
No additional information was immediately available.