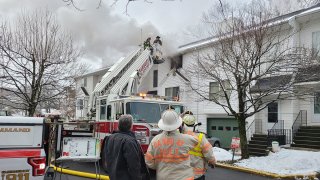 One firefighter was transported from the scene of a fire in Danbury Thursday morning to be evaluated.
Firefighters responded to Virginia Avenue Towne Summit just after 9:30 a.m. and found smoke coming from the roofline of a large eight-unit townhouse building, officials said.
A second alarm was activated and brought more firefighters. A third alarm was activated when a firefighter was transported to be evaluated, officials said.
The fire was under control around 10:15 a.m.
The Danbury fire marshal's office is investigating the cause of the fire.