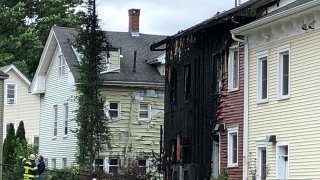 A total of 37 people were displaced after a fire tore through a Meriden apartment building over the weekend.
Firefighters responded to Crown Streets and the chief said no one was injured and everyone got out safely.
Eight families, including 15 adults and 22 children, are now without a home.
Photos from the scene show extensive damage to one building and damage to the siding of a building next door.
Responding firefighters said wind was the biggest challenge in putting out the fire. Power was off for the entire building while crews were at the scene.
The American Red Cross is assisting.