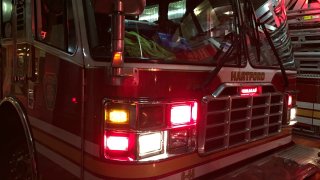 Firefighters worked quickly to put out a blaze at a three-family home in Harford's South End Sunday afternoon.
Crews responded to home on Campfield Avenue, which was occupied at the time of the fire.
Responding firefighters saw fire on the top floor stairwell that extended into the eaves of the building.
The blaze was quickly knocked down and placed under control in 17 minutes.
No occupants or firefighters were injured.
The fire is under investigation by the city's Fire Marshal's Office. The Special Services Unit is working with the Red Cross to help the families, if they're displaced.
It's unknown if the home will be uninhabitable, officials said.