We have issued a First Alert for next Thursday as we continue to track a powerful storm.
The energy that will eventually develop this system into a storm is currently located in the northern section of the British Columbia province of Canada.
The exact track of the system is a bit uncertain. Our models currently have the center of low pressure approximately 150 miles to the east of Cape Cod. This track would not be a typical blockbuster nor'easter track. With that being said it still would bring some snow to the state.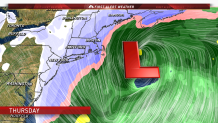 The system is modeled to be very large and would result in a wide reaching wind and precipitation field.
The First Alert was issued for strong winds, cold temperatures, and snow.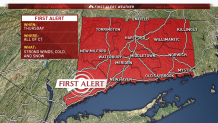 A shift to the west would result in a substantial snowfall while a shift further to the east would result in less impacts.
We will continue to keep a close eye on this developing system and give you an update as new information is available.