The NBC Connecticut meteorologists have issued two First Alerts for chances of snow this weekend.
The first round of snow that moved through the state dropped anywhere from a coating of snow along the Mass. border to up to 5" of snow along the 95 corridor. Expect clouds along with some sunshine this afternoon which will help with melting of the snow on area roadways.
Another weak system will pass through this evening with nothing more than snow showers and perhaps a slick spot in a few towns. Watch out for black ice tonight as today's melting will freeze tonight and cause some black ice.
Another chance for snow comes Sunday with some significant snow developing Sunday evening before changing over to a mix and rain. The storm could make for a very messy commute on Monday morning.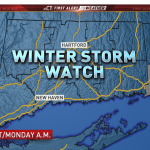 A Winter Storm Watch has been issued for most of the state for Sunday night and Monday morning. Another round of accumulating snow up to or more than a half foot of snow could fall by Monday morning.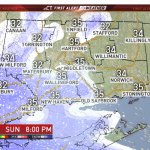 Stay tuned for more details.
Get the latest forecast anytime here.