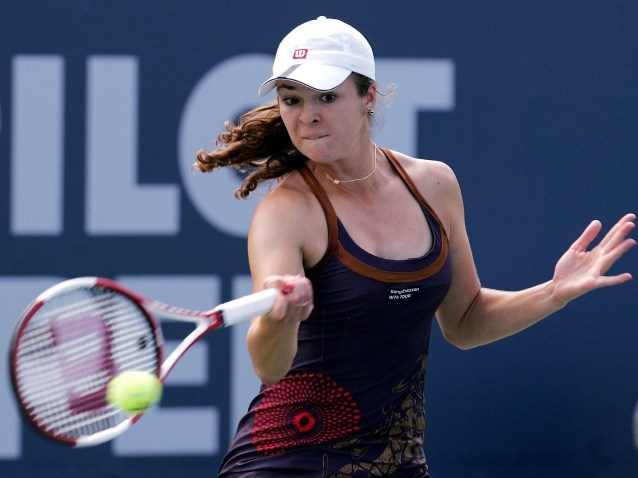 First Niagara will sponsor the New Haven Open at Yale for at least three years.
Pilot Pen was the main sponsor of the co-ed tournament in New Haven but the pen company dropped its sponsorship after the 2010 matches. First Niagara will be the Presenting Sponsor.
"I am thrilled to announce that First Niagara will be our Presenting Sponsor for at least the next three years," tournament director, Anne Worcester, said in a release.
When Worcester spoke with First Niagara President and Chief Executive Officer John Koelmel in September, the future of the tournament was in doubt, she said.
"Early on in our meetings with community leaders in New Haven, three things became readily apparent to me; the importance of this tournament to the New Haven economy, the many ways in which the tournament benefits New Haven neighborhoods, and the obvious synergy between the tournament's focus and First Niagara's commitment to youth mentoring and development programs," Koelmel said.
Cornerstone Sponsors Aetna, American Express, Yale-New Haven Hospital and Yale University are also major supporters of the Open, which will be held from Aug. 19 to 27.
Some of the events First Niagara will support include First Niagara Family Classic, a parent/child tournament that takes place from February-August across eight states; First Niagara Free Lesson, an annual clinic in May that introduces New Haven schoolchildren to tennis; and First Niagara Latino Day, a clinic and Q&A session with a professional tennis player who introduces New Haven Latino youth to the game of tennis.
First Niagara is buying New Haven-based NewAlliance Bancshare and New Haven officials said in December they believed that merger would have a negative impact on the area.

The news of the sponsorship comes the day after the state Department of Labor received notice that the company will lay off 219 people. New Alliance officials said in December that they would eliminate 230 back-office and support jobs in New Haven and Manchester and expect to create 180 new jobs in New England, with a total loss of 50 jobs.
The company will lay off 93 people in Manchester and 126 in New Haven, according to the state Department of Labor WARN report.
The layoffs will happen between April 15 and Jan. 2012.