The City of Bridgeport is rallying behind a 6-year-old boy who was badly burned on Sunday and first responders held a parade Thursday morning to show their support and cheer him on as he recovers.
Police and fire vehicles lined up in front of Bridgeport Hospital to show their support for Dominick Krankal and he watched on from his hospital room, waving to the people gathered there for him.
Dominick's family and his doctor said he's doing well, considering the circumstances.
"I'm sure Dominick has a big smile on his face although we probably wouldn't even be able to see it because of how swollen his face is, but I'm sure he's ecstatic right now, Dominick's sister, Kayla Deegan, said.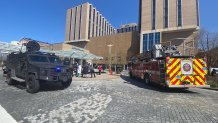 Dominick suffered second-and third-degree burns to his face and legs on Sunday and his family told NBC New York they believe the incident may have been intentional.
Dominick was rushed to the burn unit at Bridgeport Hospital. Bandaged, he stood by the window and watched as people gathered to show their support for him.
"To have the community, an entire state, come to rally, to say, We're with you, we're with you 100 percent, I hope is a message that will continue to give him the strength he needs," Bridgeport Mayor Joseph Ganim said.
First responders from around the state also posted their well wishes on social media, offering words of encouragement for Dominick.
"That makes my heart happy that he's getting all the support and love from everyone that he needs right now," Deegan said.
Dr. Magna Dias, chair of pediatrics at the hospital, said he is expected to make a full recovery.
She said his spirits are high and Dominick is a "tough little young man."
Police are investigating the cause of Dominick's injuries and police said they are investigating reports of children seen playing with gasoline and lighting objects on fire.
Dominick's family is looking to raise money to help pay for the hospital expenses and find somewhere else to live.