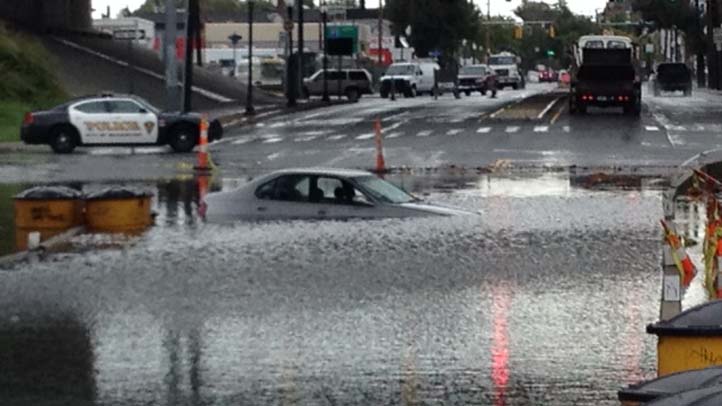 Flooding caused problems in parts of the state on Friday afternoon as 2.5 inches of rain fell quickly.
Officials from the Milford Fire Department said they had to rescue about 25 people from flooding and probably took more than 100 calls for basement flooding,
The two biggest issues were flooding at the Westfield Connecticut Post in Milford, which closed for about half an hour, and St. Anne's Church, which is dealing with oil from a neighboring property leaking into the church.
The Stratford Fire Department responded to more than 35 incidents, many of which included rescuing people from stranded cars. Ten cars were stuck in high water in just one of those incidences, according to the Stratford Fire Department.
One of the rescues was for a 10-year-old boy.
Every railroad underpass was blocked at the height of the flooding, according to officials.
The water has since begun to recede and there were no significant injuries, according to the fire department.
In Milford, the Westfield Connecticut Post in Milford has since reopened. The movie theater and anchor stores are open, but the lower level remains closed.
Mall management said the storm drains could not handle the volume.
The best entrance for people to use on on the upper level near Panera.
The rain fell quickly. According to the weather reporting station at Tweed in New Haven, 2.5 inches of rain fell, and 1.5 inches of it fell in the one-hour span of 2 p.m. to 3 p.m.
Flood advisories remain in effect for Middlesex and New London counties until 5:15 p.m.
Warning issued earlier in the day for New Haven County and Fairfield County have since expired.
The flooding is also caused problems on the highways.
The Interstate-95 Southbound ramp in Stratford was closed at exit 30 because of flooding.
The weather is also affecting the Southington Apple Harvest Festival.
Several football games are also postponed. The full list is posted on the Connecticut Association of Schools Web site
Activities scheduled for Friday have been canceled due to weather. The festival will open at 9 a.m. on Saturday.
Follow the interactive radar here.

If you take severe weather photos, send them to us at photos@nbcconnecticut.com.