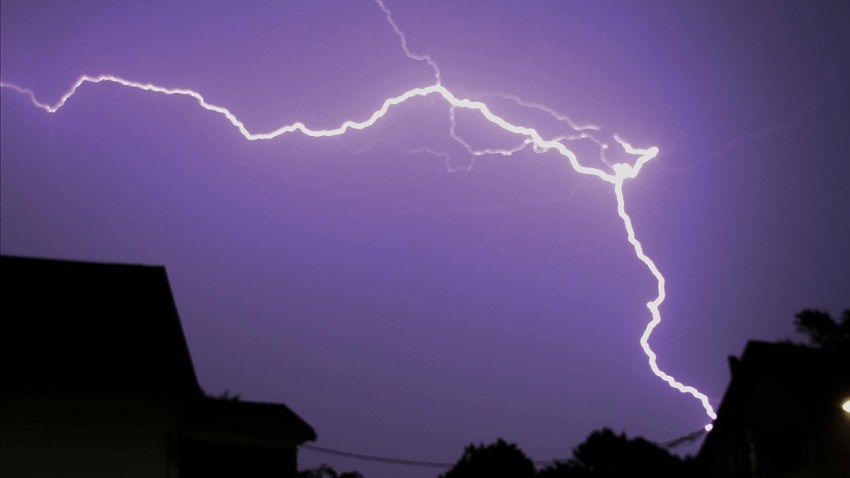 Flash flood watches remain in effect for Middlesex, New Haven, New London, Tolland and Windham counties through Wednesday afternoon.
The flash flood watches are scheduled to last until 2 p.m.
The National Weather Service reports that "multiple waves of showers and thunderstorms" are likely to pass through the region with two inches or more of rain potentially falling per hour.
The tropical air mass over Connecticut will likely cause downpours, predominantly in western Connecticut this morning, according to NBC Connecticut Meteorologist Bob Maxon. We'll see some relief from the storms by tonight.
After thousands of people across Connecticut lost power during Wednesday's thunderstorms, 289 CL&P customers and 12 United Illuminum customers remain without power, according to the power companies' outage maps.
CL&P said all available crews headed to the shoreline on Tuesday to repair downed wires and restore power after weather-related outages and fallen trees.
Lightning struck a home in Waterbury earlier Tuesday, melting the siding and causing a fire to break out, according the homeowner.
Storms also brought down a tree on Blake Street in New Haven on Tuesday, snapping a lightning bolt in half and closing the road near the intersection with Diamond Street, and a power line came down on Route 145 in Clinton, authorities said.
Gov. Dannel Malloy issued the following statement on Tuesday with regards for the forecast:
"We continue to be in a very active, severe weather pattern. I am asking all residents, especially those living in low-lying, flood-prone areas, to stay alert to changing weather conditions."
Thunder and heavy rain Monday night also flooded some roads for the morning commute Tuesday, particularly in New Haven.
Ella T. Grasso Boulevard was closed Tuesday morning at Interstate 95 due to flooding.
New Haven set up two water pumps in the eastern part of the city, on Dean Street and Morris Causeway, in case of more flooding Tuesday, according to the mayor's office. The fire department and emergency management center are monitoring weather conditions.
A fallen tree in Avon closed Route 167 (West Avon Road) at Westmont Road on Tuesday morning.
The basement and holding area for the Elm Street courthouse in New Haven flooded on Monday night and the head court marshal said the ground was coated with 4-6 inches of water.
ServePro arrived to drain the basement and clean it up. There is no health threat to the rest of the building, court officials said, but they were not holding people in the flooded cells.
Things should be back to normal at the courthouse on Thursday, officials said.