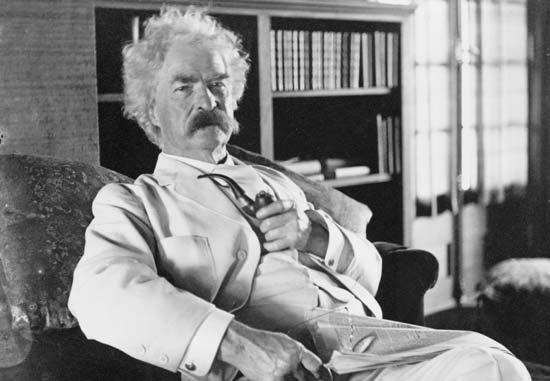 After you get through Kendra Wilkinson's cover shot and photo spread in the December issue of Playboy, you'll find yourself getting a sneak peek at an entirely different icon.
The adult magazine is publishing an exclusive from an unreleased portion of the autobiography of Mark Twain, Hartford's most accomplished author.
The excerpt, "The Palm Readers," comes from the second of three volumes and it is Twain's take when a palm reader is asked to read his handprint without knowing to whom it belongs.
According to Playboy, the writing revealed Twain – or Samuel Clemens -- as a comic in the same light as Lewis Black or George Carlin -- a sarcastic straight-shooter, but smart enough to make a joke that you had must pay attention to in order to understand.
Twain died on April 21, 1910 and his will stated that his autobiography not be published until 100 years after his death. Volume 1 was published on Monday.
The second volume will be released in 2012, with a third to follow.

The issue of Playboy is available now.