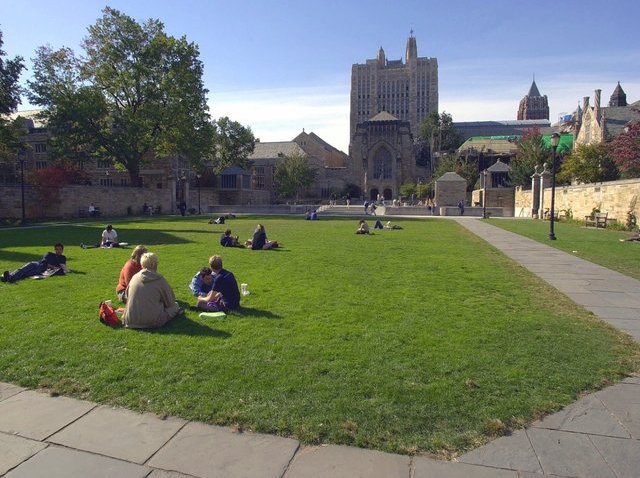 Some Yale frat pledges chanting about necrophilia and sexual acts will mean that all Yale initiation rituals will be under an Ivy League microscope, including for a cappella groups, athletes and others.
On Sunday, Yale College Dean Mary Miller met with Douglas Lanpher, the national executive director of DKE, the frat that is in hot water. Miller has asked the national organization to keep the frat on probation indefinitely, according to a letter to the students issued after that meeting,
Lampher was "responsive: and "positive in his attitude toward community values." Although, there are no specifics on what will be done, she told the Yale Daily News.
DKE in not a registered Yale organization, but the fraternity was founded there in 1855 and its alumni include former presidents George W. Bush and George H.W. Bush. In the 1960s, DKE had the reputation of being "notoriously rambunctious," the New York Times reports.
In the aftermath of the chanting, which was placed on YouTube, Yale has laid out a multistep plan to address the issue.
"The outcry and calls to action over the past ten days attest to the core values of the Yale community: dignity, personal and community responsibility, and trust. We must use this incident to educate, to listen and learn, and to grow in respect for one another," Miller wrote.
On Tuesday night, the dean's office and the Inter-cultural Affairs Committee will host "Deconstructing the "DKE Incident": How, Why, What Next?"
The women's center, which first complained about the chanting, will host an intimate partner violence awareness week.
Miller is also creating a committee to look into new member initiations at musical groups to athletic teams, including those that are not registered organizations.
You can find more details on the events here.
Follow us on Twitter @NBCConnecticut, on Facebook, and sign up for breaking news SMS alerts on your phone by texting "CTBREAKING" to 622669.