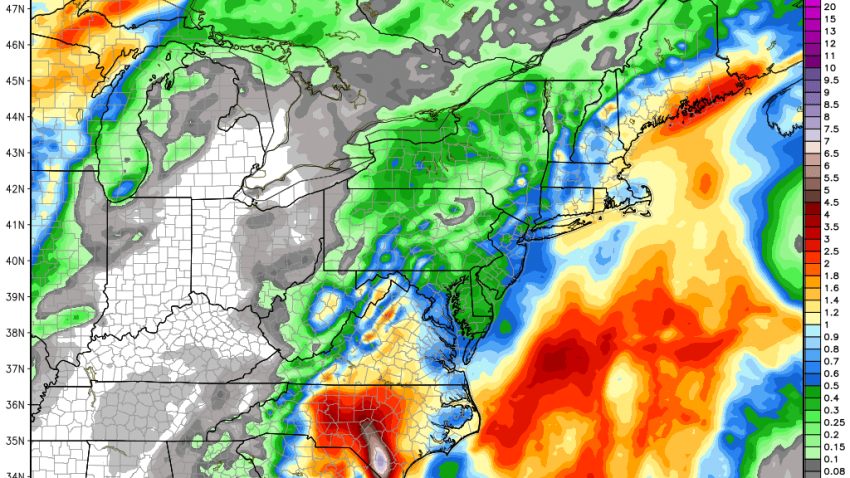 Another drought-denting rain is on the way Tuesday and Wednesday. Another inch of rain will put another small dent in the drought that was about 2 years in the making.
Rain will begin Tuesday morning and continue off and on through Wednesday. The setup is fairly common this kind of year with a big cut-off low off the southeastern U.S. drifting up the coast. This is the kind of setup that can deliver flooding rains to Connecticut in April BUT this system is weakening dramatically. Still, a period of locally heavy rain is a possibility in some towns later Tuesday and Tuesday night.
Even though the low weakens as it moves up the coast there's quite a bit of moisture that will move in. The graphic above is what's called "precipitable water" (PWAT) and it's a good way of looking at how much moisture exists throughout the atmosphere. What we've done here is compare the PWAT values for Tuesday night to what's typical for late April - values are ~200% of normal so that indicates there's a lot more moisture in the air than there typically is this time of year. This shouldn't come as much surprise, though, when you see where the air is coming from. A long fetch of southerly winds is transporting moisture from the Caribbean and southern Atlantic Ocean right into New England.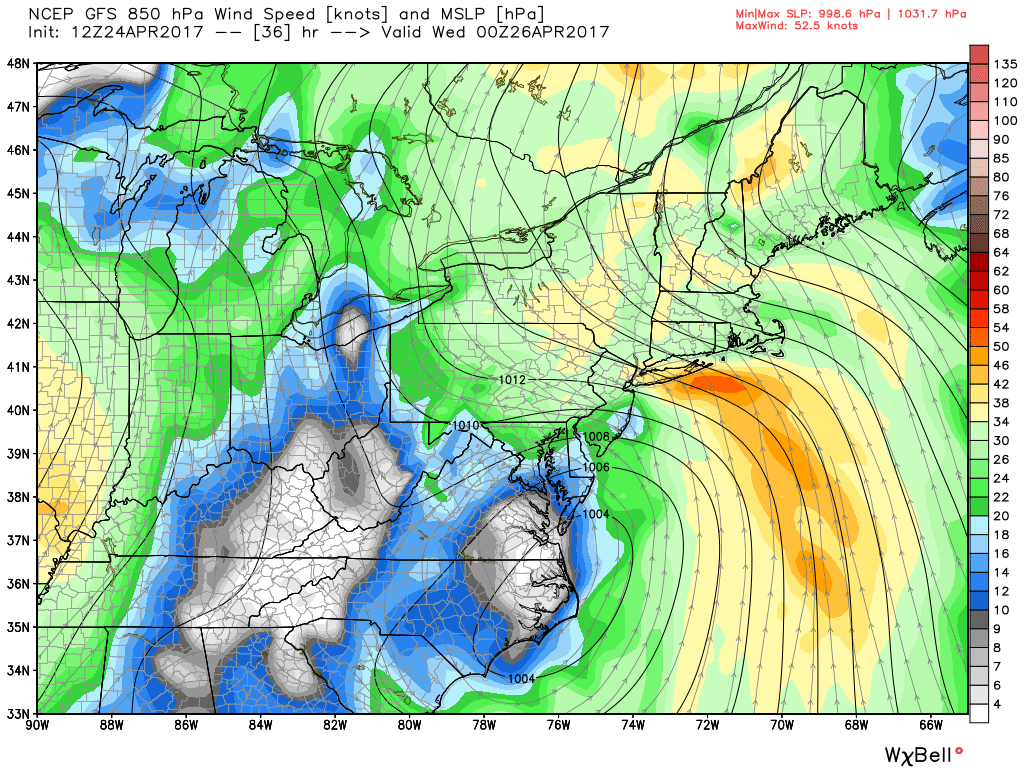 It appears as though the peak of the rain will be Tuesday night. The low level jet stream (about 5,000 feet above our heads) will peak Tuesday evening and night and that is when there's a maximum in low level convergence and moisture transport. That's when we'll get the wettest.

How much rain are we looking at? Most of our computer models have between 0.5" and 1.5" across that state and that looks reasonable. This will not be enough for flooding. With a low that's weakening (and, as a result, modest amounts of lift in the atmophere) it will be tough to see truly excessive precipitation even with an unusually high amount of moisture. I should note, however, that some of our short range ensemble members (see graph above) do show over 2" of rain. While unlikely, this would be a possibility especially if thunderstorms develop.
We're still on track for an extended period of warm weather later this week through early next week. At least one or two days near 80F seems likely.