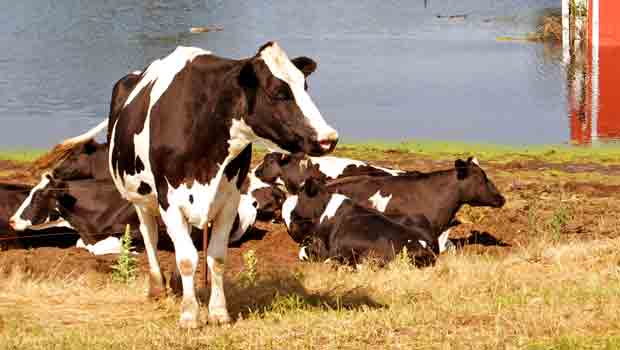 Over the weekend, someone shot two cows in North Stonington and a state lawmaker who said she is sickened by the act of violence plans to establish a fund to help the teenage farmer who owns the cows and his family.
Asa Palmer's cows were shot in a field on Pendelton Hill Road, near the family's Palmer farm, sometime late Friday or early on Saturday morning, according to state police and State Rep. Diana Urban. One of the animals was so badly injured that it will have to be euthanized, according to state police.
Urban said in a statement that Asa has owned one of the cows, Angel, ever since she was born and the fund will be called the "Angel Fund." Chelsea Groton Bank will be accepting financial donations.
Urban, House Chair of the Children's Committee and a longtime animal advocate, said she was "sickened and angered" by the "deliberate act of senseless cruelty," according to a statement.
"Asa Palmer is the future of farming in our state," Urban said. "We need to reach out to Asa and his family at this time. This is an opportunity for North Stonington to show our true colors and let Asa know how much we care. I know how hard Asa works and I know how saddened he is by this senseless destructive act. I will be the first person making a donation to help hum put his herd back together."
Urban said she agreed with Asa, who said whoever did this must be a degenerate or worse.
"The fact that the cows were shot in the face and basically maimed sends a disturbing message. Yet again I feel compelled to point out that research indicates that animal cruelty is a big red flag for future violent behavior," Urban said in a statement. "It is chilling that anyone could feel empowered to shoot these defenseless animals in such a barbaric fashion particularly when we are focused on the heartbreaking tragedy at Sandy Hook."
Urban also issued a call for the courts to issue strong penalties for animal cruelty cases.
"Too many times I have seen these cases nolled or given accelerated rehabilitation and the connection to future violent behavior basically swept under the rug. In fact, before I became a legislator animal cruelty convictions were purged from court records," Urban said. "Now we archive them and reference them if the violence escalates or in parole hearings. The research is irrefutable, there is a connection between animal cruelty and future violent behavior and it is usually against a child or a domestic partner. This time we need to take this offense seriously and when we find the perpetrators prosecute them to the fullest extent of the law."
Legislation is moving through the General Assembly that
would set up an animal cruelty registry that would require animal abusers to register with the state. It would operate in a way similar to the sex offender registry.