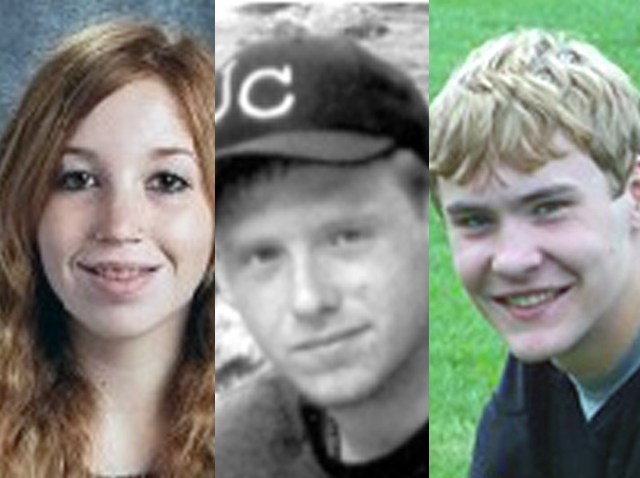 Funeral services will be held on Saturday for three of the four teens killed in a crash in Griswold on Tuesday.
Dillon Clifford, Sativa Cornell and John Clapper III, all 16, and Steven Szklarz,15, were killed in the crash just miles from the school. Dillon would have turned 17 on Friday.
The families of Clifford and Cornell are holding the funerals together.
Calling hours for both teens will be held Friday from 5-7 p.m. at the Gagne-Piechowski Funeral Home on Voluntown Road in Jewett City. Funeral services for both will be held at the funeral home on Saturday at 10 a.m.
Interment for Sativa will follow in Robbins Cemetery, Voluntown. Burial for Dillon will be private.
Dillon was a junior at Griswold High School, where he played baseball, football and basketball, and wrestled, according to his obituary. He enjoyed motocross and riding his dirt bike.
Sativa played softball, volleyball, and track-shot put, according to her obituary. She rode dirt bikes since the age of 7.
A mass of Christian burial for Clapper will also be held at 10 a.m. on Saturday in All Hallows Church in Moosup. Burial will follow at All Hallows Cemetery. There are no calling hours, according to his obituary.
Clapper was involved in chorus at Griswold High School and was #44 on the Wolverines last year, according to his obituary. He planned to enlist in the Marines after high school.
Funeral arrangements for Szklarz are being finalized by the Leffler Funeral Home in Jewett City. No information was posted as of Friday morning.
Joel Gallup, the only survivor, remains in critical condition at Yale-New Haven Hospital.
Clapper was driving at the time of the crash, according to the police report. Department of Motor Vehicle records show he had only a learner's permit and wasn't supposed to be driving with teens in the car. Police are still investigating the crash.