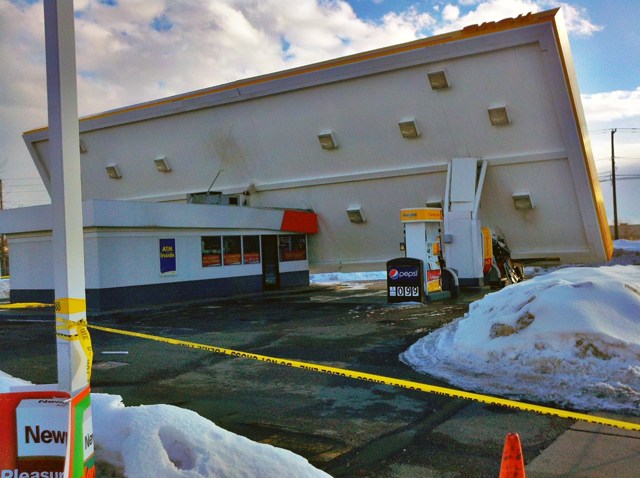 A tow truck driver was lucky to escape when a gas station canopy came crashing down, landing right on top of his vehicle on Tuesday afternoon.
The gas nozzle was still in the truck as the overhang slammed onto the truck below.
A West Hartford police officer who happened to be parked across the street heard the crash as the canopy collapsed just before 2 p.m.
The driver, fortunately, was not hurt, but some electrical lines at the Shell gas station at 456 New Park Road in West Hartford were compromised during the collapse, officials said.
Over the last week and a half, there have been a multitude of collapses. Buildings have crumbled and some houses have been compromised.
A week and a half ago in Shelton, a gas station canopy came down just seconds after Patty Timmons, of Monroe, walked underneath it to get a soda from the store inside.
The amazing video shows her narrow escape.
The Shell gas station in West Hartford will need a lot of work to reopen.
Crews spent hours on Tuesday finishing what the roof collapse started. They took the canopy completely down and drove the truck out from under it. Now, it's up to the owner to fix the pumps.

"It's been a bad year, you know with the winter, as it is, so we're really going to be struggling with this," Eric Mahroos, a co-owner of the gas station, said.
Follow us on Twitter @NBCConnecticut, on Facebook, and sign up for breaking news SMS alerts on your phone by texting "CTBREAKING" to 622669.