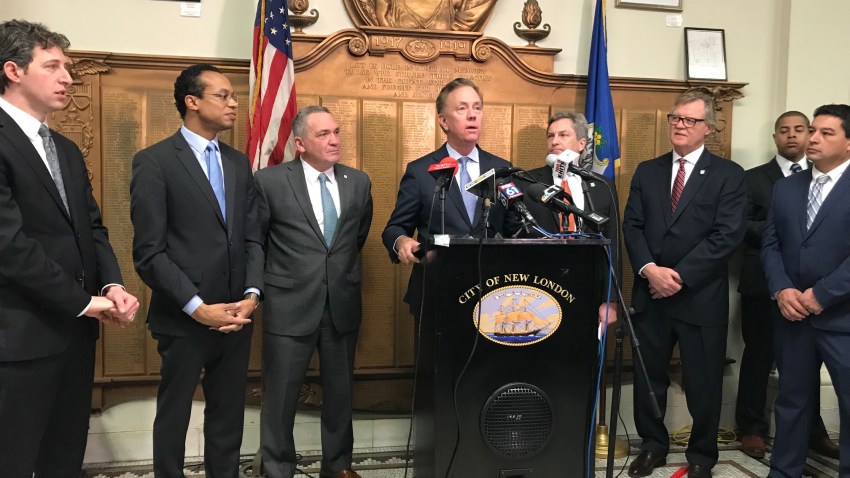 The City of New London will now have a seat at the table when it comes to any future development of State Pier, and a share of the revenue.
Gov. Ned Lamont's Office helped broker the partnership between the city, the Connecticut Port Authority and port operator Gateway Terminal. Lamont was on hand to make the announcement to a packed City Hall Wednesday.
New London will now receive 10 percent of the Port Authority's revenue share from State Pier and an additional $75,000 annually to help offset the cost of police, fire and other services the city provides.
The payments are guaranteed for 20 years.
"For the first time, we have a partnership with the State of Connecticut and the Connecticut Port Authority to share in the revenue from that asset, which is in the City of New London," Passero said. "And we're proud of it, but we never really had the benefit of that asset. So this is a very, very historic moment for the City of New London."
New London Mayor Michael Passero will also have an ex officio seat on the Port Authority's Board of Directors, guaranteeing the city's perspective is weighed into decisions.
When the Port Authority announced a 20-year deal with New Haven port operator Gateway on January 7, it did not include a guaranteed share of revenue from the pier for the City of New London.
Lamont called this new private-public partnership a template he'd like to see going forward and highlighted the city's role in shaping the State Pier to become a regional hub for the offshore wind industry and other opportunities.
"State Pier is about clean energy and what that means to our future. It's also about what this port means. And this is going to be one of the most important ports in New England," said Lamont, also touting railroad nearby.
Under the agreement with Gateway, the Connecticut Port Authority will receive seven percent of gross annual revenues at State Pier with a minimum of $500,000 guaranteed annually. That means as part of this agreement, the City of New London is guaranteed at least $50,000 per year, and that minimum increases every five years.
Those minimums will protect the city against a drop in the economy or lack of activity at the port. Officials anticipate the city will receive more as the economic viability of State Pier increases.
"Every day you see a ship come into New London, New London gets a piece of the action from that," said Scott Bates, chairman of the Connecticut Port Authority.
The $75,000 impact fee will increase annually with the Consumer Price Index.
The state has committed more than $30 million toward aiding the State Pier in becoming a regional hub for green jobs.