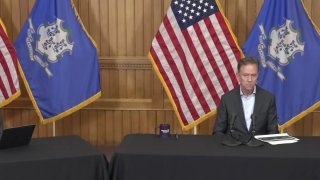 Gov. Ned Lamont on Wednesday delivered his state of the state address -- his first since the beginning of the coronavirus pandemic.
Rather than delivering his speech before a crowd in the chambers, he did so virtually from his office in a pre-recorded speech with video provided by CT-N.
You can read the governor's full speech here
Lamont has been running the state largely through his executive authority since March, when many businesses had to shut their doors and schools closed to make the transition to online learning.
The governor addressed the coronavirus during his speech.
Coronavirus restrictions remain in place. Connecticut was in Phase 3 of reopening, but rolled back to Phase 2.1 due to a spike in cases statewide.
Since the beginning of the pandemic, there have been 196,968 confirmed cases of COVID-19 in Connecticut and 6,192 coronavirus-related deaths.
As of Tuesday, the state's COVID-19 positivity rate was 7.66 percent and 1,149 people were hospitalized with the virus.
The governor addressed sports betting, internet gaming and legalized marijuana.
Lamont addressed racism and the deaths of George Floyd and Breonna Taylor, which led to protests nationwide, including in Connecticut.
"Racism is another virus which knows no borders. Following the tragic deaths of George Floyd and Breonna Taylor, our nation and our state found itself at a historical moment of reckoning – forced to finally confront the hard truths of racial inequality and injustice – but protests are only meaningful if they are a call to action," Lamont said.
"Unlike the violence which jarred protests in other states, our protests highlighted the best in Connecticut values– with black and white, suburbs and cities, police and protesters locking arms in a common cause," he added.
Lamont also touched upon paid family and medical leave.
The governor's state of the state address was delivered by video at noon during a virtual joint session of the Connecticut General Assembly.
Stories from LX News
LX, or Local X stands, for the exponential possibilities of storytelling in our communities.