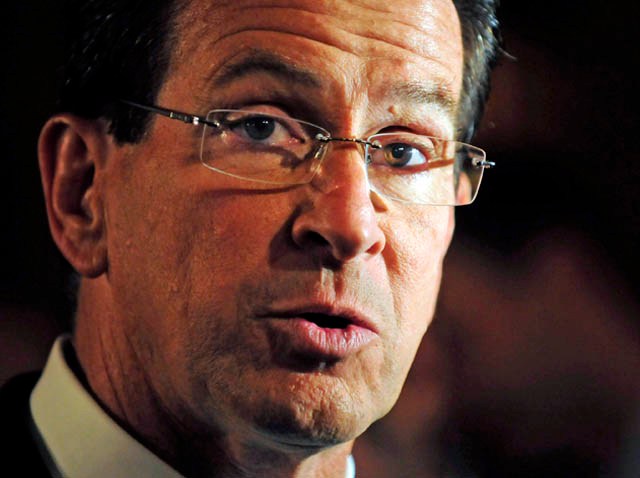 Gov. Dannel Malloy last week proposed several tax hikes that will affect every resident in the state and he will be traveling to local cities and towns to meet with resident to listen to their thoughts, suggestions and concerns.
"It really is my preference to be out there, talking with people in the flesh, hearing their thoughts and communicating in a civil manner that will bring out the best and most productive changes benefitting the State of Connecticut," Malloy said. "It's important that we have a chance to talk about some of the changes I'm proposing to help create new jobs and get our state's fiscal house in order, and I want to hear what people think."
Malloy will hold 17 town hall-style meetings and said he held similarly styled constituent meetings when he was mayor of Stamford and wants to continue meeting with residents in a similar fashion.
Here is the list of planned town hall meetings:
Bridgeport: Feb. 21, 7-8 p.m. at City Hall Annex Auditorium, 999 Broad St.
Torrington: Feb. 24, 7-8 p.m. at City Hall Auditorium, 140 Main St.
New London: March 2, 7-8 p.m. at Jennings Elementary School, 50 Mercer St.
Waterbury: March 8, 7-8 p.m. at Veteran's Memorial Hall, 235 Grand St.
Norwich: March 9, 7-8 p.m. at City Hall, 3rd Floor, 100 Broadway
Bristol: March 14, 7-8 p.m. at City Council Chambers, 111 North Main St.
Meriden: March 15, time and location TBD
Middletown: March 16, 7-8 p.m., Common Council Room, 245 DeKoven Drive
Hartford: March 21, time and Location TBD
Stamford: March 22, 7-8 p.m. at Government Center, 4th Floor Cafeteria, 888 Washington Boulevard
New Haven: March 23, 7-8 p.m. at Aldermanic Chambers, 165 Church St.
Greenwich: March 28, 7-8 p.m., Town Hall Meeting Room, 299 Greenwich Ave.
Manchester: March 29, 7-8 p.m. at Lincoln Center Hearing Room, 494 Main St.
Windham: March 30, 7-8 p.m. at Town Hall Auditorium, 979 Main St.
Norwalk: April 4, time and location TBD
New Britain, April 5, time and location TBD
Danbury: April 6, time and location TBD
Comment on the proposed tax increases on Facebook.
Follow us on Twitter @NBCConnecticut, on Facebook, and sign up for breaking news SMS alerts on your phone by texting "CTBREAKING" to 622669.