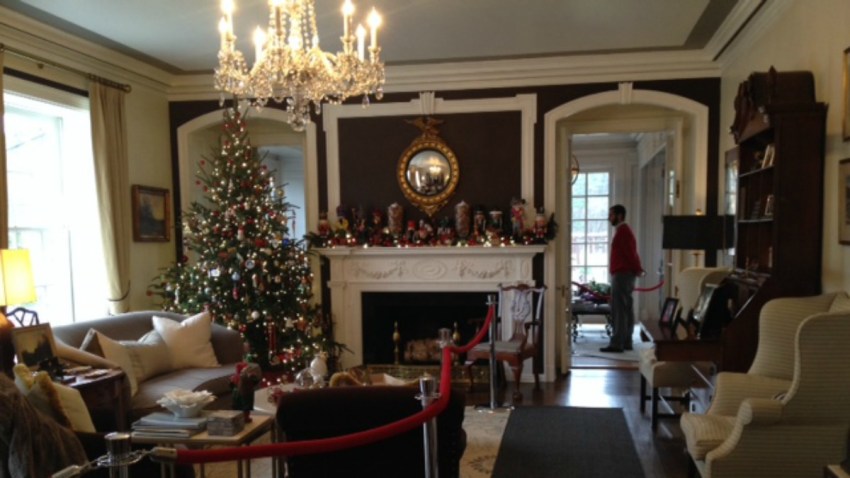 Gov. Dannel P. Malloy will be greeting visitors at the Governor's Residence today and kicking off the first day of a three-day holiday open house.
The Georgian Revival style home, at 990 Prospect Ave. in Hartford, at the corner of Asylum Avenue, will be open to the public for tours on Friday, from 10 a.m. to 3 p.m.; Saturday from 10 a.m. to 3 p.m.; and Sunday, from noon to 4 p.m. There will be live entertainment each day.
[HAR] Governor's Mansion Decorated for Holidays
The residence, built in 1909, will feature six decorated Christmas trees and four gingerbread houses.
"Each year, Cathy and I look forward to this event because it gives us an opportunity to continue a longstanding Connecticut tradition and greet Connecticut families during this festive time of year," Gov. Dannel Malloy said in a statement. "We are also proud to showcase not only our own family's personal collection of Christmas decorations, but also the seasonal agricultural decorations that have been generously donated by local growers and small businesses. The Governor's Residence truly belongs to the people, and we encourage everyone to visit and join us in the holiday spirit."
The governor is scheduled to greet visitors Friday, starting at 10 a.m.
Hours:
Friday, Dec. 5, 10 a.m. to 3 p.m.
Saturday, Dec. 6, 10 a.m. to 3 p.m.
Sunday, Dec. 7, noon to 4 p.m.
While admission is free, e Connecticut National Guard will be accepting charitable donations for Operation ELF, an annual program to support the families of soldiers and airmen deployed during the holidays.
Schedule:
Friday, Dec. 5
10 a.m. – Coast Guard Choir
Saturday, Dec. 6
10 a.m. – Emmanuel Christian Academy
11:30 a.m. – Charter Oak Flutes
12:30 p.m. – Summer Solstice, string quartet
2 p.m. – Conard Solo Choir, West Hartford
Sunday, Dec. 7
Noon – Fairfield University Sweet Harmony, with the Bensonians
1 p.m. – Choraliers from Hall High School, West Hartford
2 p.m. – Erin Vivero, "On the List" Flute Ensemble
3 p.m. – Newington High School Chamber Choir
Copyright AP - Associated Press