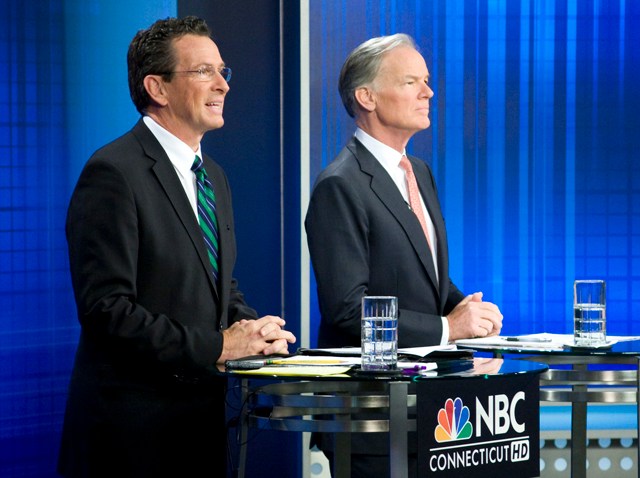 The latest Quinnipiac University poll says the race for Connecticut governor is too close to call.
It also shows Republican Tom Foley taking a slight lead, with 48 percent of likely voters and Democrat Dan Malloy has 45 percent.
On Oct. 26, Malloy lead, 48 percent to 43 percent.
Both candidates have strong leads in their own parties, but independent voters have shifted from Malloy to Foley.
"The late deciders are breaking for Tom Foley. There has been a big shift among independents in the final week of the campaign toward the Republican," Quinnipiac University Poll Director Douglas Schwartz said.
Last week, Malloy led 50 percent to 41 percent, now voters lean, 55 percent to 33 percent for Foley. Another 6 percent of likely voters are undecided and 11 percent of those who name a candidate say they might change their mind.
"For Foley to win, he needs to win the independent vote by a substantial margin, which he is now doing for the first time. But this race is too close to call. With 6 percent still undecided there is still room for movement," Schwartz said.
Malloy gets a split 44 to 41 percent favorability from likely voters, compared to 47 to 34 percent last week.
Foley's 48 to 34 percent favorability compares to 45 to 33 percent last week.
"Dan Malloy's unfavorables have risen to the point where he gets a mixed favorability rating for the first time," Schwartz said.
But, it is still anyone's race.
"Foley has the numerical lead and the momentum but Malloy still could pull this out," Schwartz said.
"In the past few days, some polls have had us up, some down, and some within the margin of error," Dan Kelly, Malloy's campaign manager. said. "Today's Quinnipiac poll shows us down 3 points – the same deficit we faced the day before the primary. We are confident that Dan's strength as a closer, coupled with our ground game, will result in a victory tomorrow."
Follow us on Twitter @NBCConnecticut, on Facebook, and sign up for breaking news SMS alerts on your phone by texting "CTBREAKING" to 622669.