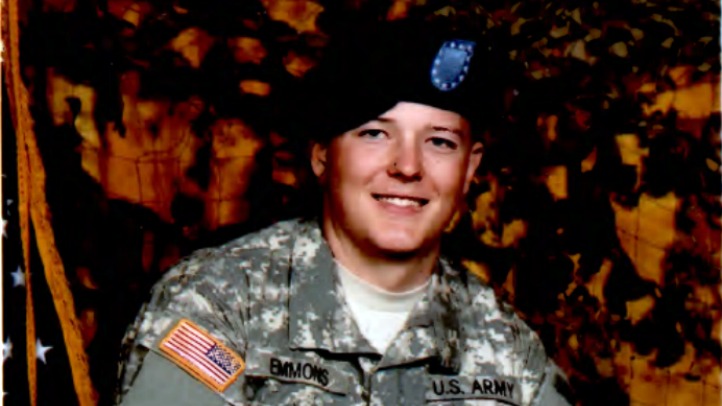 With solemn hearts, friends and family shared their love for Army Specialist Richard Emmons III at a memorial service on Monday night.
The 22-year-old communications specialist had volunteered to drive a transport truck in Afghanistan when he was killed during an enemy attack on May 31.
His sister, Morgan Hogan, read a poem she wrote about her family's loss.
"For me and my family, we are going to have to wake up every day with an empty heart. But I know that my brother will be in our hearts forever. Love everyone today, because you never know if they are going to be there tomorrow," Morgan said.
Emmons was buried with full military honors on June 11 in Woodstown, New Jersey, where he lived as a boy.
He moved to Granby in 2002 to start high school and graduated with his class from Granby Memorial High School in 2006. The Granby community wanted to honor him and planned the memorial service inside the high school auditorium.
Many dignitaries spoke, including Lt. Gov. Nancy Wyman and Major General Jim Skiff, a Granby resident.
Tears flowed from most of those gathered in the packed room as a video tribute played, showing pictures of Specialist Emmons as he grew from a young boy to the young man who enlisted in the Army in September 2009.
Several of his friends spoke about Richie's love for hunting, country music and his Ford F150 pickup truck.
"Richie was my other brother. Whether at country concerts or just splitting wood, the memories will never be forgotten," his friend Justin said.
Granby Supt. of Schools Alan Addley read Richie's almost prophetic senior quote from the high school yearbook.
"Scars heal, glories fade and all you're left with is memories made. Pain hurts, but only for a minute. Your life is short, so go ahead and live it," Addley read, then added, "Richard certainly went ahead and lived it."
The flag that had draped Specialist Emmons' casket sat on a table on the stage during the tributes, along with the numerous medals he received after his death. Specialist Emmons' family now has those medals and their memories.
His mother, Janice Hogan, stepfather Bill, sister Morgan and brother Conor all got up to address the crowd and thank them for their support during this difficult time.
"Keep Richie in your prayers and be proud to be Americans. Thank you all," Janice said, as she choked back tears.