Tropical Storm Elsa brought heavy rain to Connecticut Friday and emergency officials responded to crashes, flooded roads and stranded vehicles in parts of the state. Now across the state people are assessing the damage and cleaning up.
Areal flood warnings are in effect for Hartford, Tolland, and Windham County until 2 a.m. Saturday.
There was severe flooding in downtown Meriden that prompted police to warn people to avoid the area. Friday night area residents were pumping out basements and cleaning up the mess left behind.
In Middletown city officials were investigating after oil ran into the Connecticut River during the heavy rains. The city is also working to repair structural damage on Mile Lane.
In Columbia, local police and two good Samaritans jumped into action to save a woman who drove into rising waters on Park Bridge Road.
Emergency officials in New Haven said there has been significant flooding in the city.
New Haven Mayor Justin Elicker said the rain fell at a rate of two inches per hour and several roads were flooded.
Some roads in Guilford were partially or fully closed.
Mulberry Point Road at Daniel Avenue was partially blocked by a tree and wires.
Wethersfield had flooding as well. This is Wells Road at Spring Pond on Spring Street.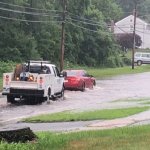 In Darien, Post Road was closed at Tokeneke Rd and in the area of Interstate 95, exit 11 due to heavy flooding, police said.
A photo police Tweeted shows a person on top of a vehicle and police are asking people not to attempt to drive through flooded areas.
In Newington, Willard Avenue, Route 173, was closed between New Britain Avenue and Halleran Drive due to flooding.
In Norwalk, Route 1 was closed between Scribner Avenue and Rampart Road due to flooding and police are urging drivers to avoid driving through flooded roadways.
Stamford fire officials responded to several vehicles and people inside them stranded in water. They asked people not to drive through standing water.
Stamford police Tweeted that roads were flooded and a number of vehicles were disabled due to high water levels at East Main Street and Myrtle Avenue, Elm Street and S. State Street, Research Drive and others.
Police later said East Main Street at Myrtle Avenue reopened.
In Stratford, Route 15 South was closed between exits 53 and 52 because of a tree in the road.
The Hamden Fire Department responded to a serious crash on Route 15 South and they warned drivers to expect delays.
The crash was on Route 15 South, between exit 60 and the tunnel.
Bridgeport was also dealing with flooding and city officials said city services were affected and roadways are closed due to downed wires, fallen trees and flooding.
All city parks are closed, Fairchild Wheeler Golf Course is closed and Bridgeport Public Library locations reopened at noon.
The following streets were closed due to flooding:
Bishop Street/Connecticut Avenue
Lincoln Avenue/Arlington Street
Seaview Avenue/ 95 Exit ramp
Iranistan Avenue/Columbia/Gregory
Seaview/Third Street
East Washington/East Main
Seaview Ave/Crescent
East Main/ Crescent
Greenwich Police said there are reports of roads in Old Greenwich closed due to flooding.
Fairfield had significant flooding as well.
The storm cleared out of most of Connecticut by noon, leaving swollen rivers and clean up from all of the flooding.