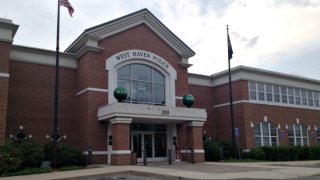 A 24-year-old woman has serious injuries after she was shot in West Haven early Wednesday morning and police have arrested a suspect.
Police said they responded to Campbell Avenue near Main Street around 12:15 a.m. Wednesday to investigate a shooting and determined that two groups of people got into an altercation at a bar, it spilled into the street and a man got a gun from his car and shot a 24-year-old Hamden woman who was walking along the sidewalk in front of the bar.
The woman sustained serious injuries and was taken to a hospital. Police said her injuries are not life-threatening.
The suspect fled, police said, and officers identified a 37-year-old New Haven man as the suspect. The found him in an East Haven home and took him into custody.
Police said detectives found a .40 caliber handgun with an extended magazine in the man's vehicle, along with packages of fentanyl.
The suspect was charged with criminal attempt at murder, assault in the first degree, criminal possession of a pistol, two counts of violation of a protective order, first-degree reckless endangerment and additional charges.
He was held on $1 million.