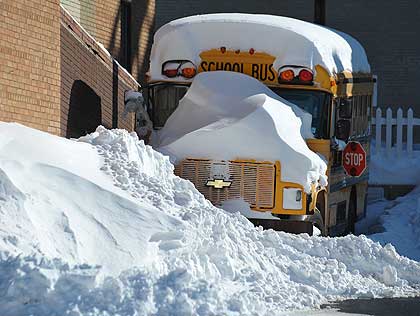 Hartford Public Schools has closed 17 school buildings, containing 20 schools, on Monday so staff and private contracting crews can remove snow and ice from the roofs.
At least nine of the buildings should be cleared by the end of the day, David Medina, director of external communications for Hartford Public Schools, said.
Storms in December and January dropped record snowfalls across the state, leaving behind double the weight that roofs are designed to handle, in some cases.
The school buildings not cleared will remain closed on Tuesday.
The following schools will be closed on Monday:
Achievement First Hartford Academy (Elementary Grades and Middle Grades)
Breakthrough Ii (Two)
Martin Luther King, Jr. Elementary (Mlk)
Parkville Community School
West Middle School (Both Campuses)
Wish Elementary
Global Communications Academy (Upper Grades)
Hartford Magnet Middle School
Rawson Elementary Grades
Rawson Middle Grades
Betances Early Reading Laboratory School
Mcdonough Elementary
Moylan Elementary
Naylor Elementary
Burr Elementary School
Breakthough I (One)
M.D. Fox Elementary
Sport And Medical Sciences Academy
Capital Preparatory Academy