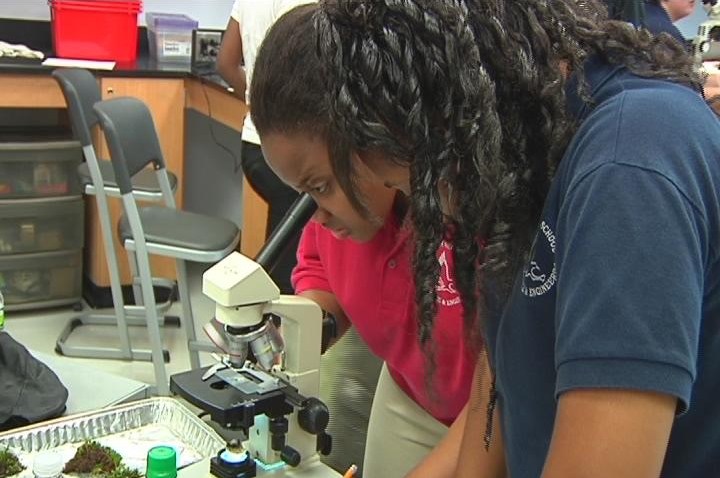 Students who excel in math, science and engineering enroll in the University High School of Science and Engineering in Hartford to get ahead of the curve and they have the opportunity to take some unusual classes, including robotics.
"We're a magnet school serving 39 towns -- 50 percent of our kids come from the city of Hartford and the other 50 percent come from the suburbs," Associate Principal Jim Compton said.
Robert Edwards, of Hartford, is a senior who is in college-planning mode.
"I'm thinking about applying to MIT, WPI, UConn, UHart, also (University of) R.I. and a couple of others," Edwards said.
Chaitali Korgaonkar, of South Windsor, is a senior who plans to pursue a career in medicine.
"Science is my favorite subject. It's the most important thing for me and, coming here, it exposed me to such a wide variety of sciences," she said.
When she graduates from this school, she will already have several college credits under her belt.
UHSSE students can accumulate as many as 30 college credit hours while in high school by taking classes next door at The University of Hartford.
"What I find fascinating is, when our students go over to the university, they're the curve busters. So they're actually out-performing their college peers in most of their courses," Compton said.
As a result, the thought of college isn't quite so daunting for senior Jake Doerfler, of Southington.
"I think I'll be very prepared. All of the college courses should have me ready to go," Doerfler said.
"Just being on campus gives them that feel. This is where I'm going. This is my path because a lot of kids don't have that at home. They're first generation college students and they don't have that family knowledge of how to navigate through," Compton said.
Students, including Edwards, who can only imagine how different high school, would have been, had he not come here.
"I probably wouldn't have taken the college courses I have now, I probably wouldn't have the friends I have now I probably wouldn't be shaped this way," said Edwards.