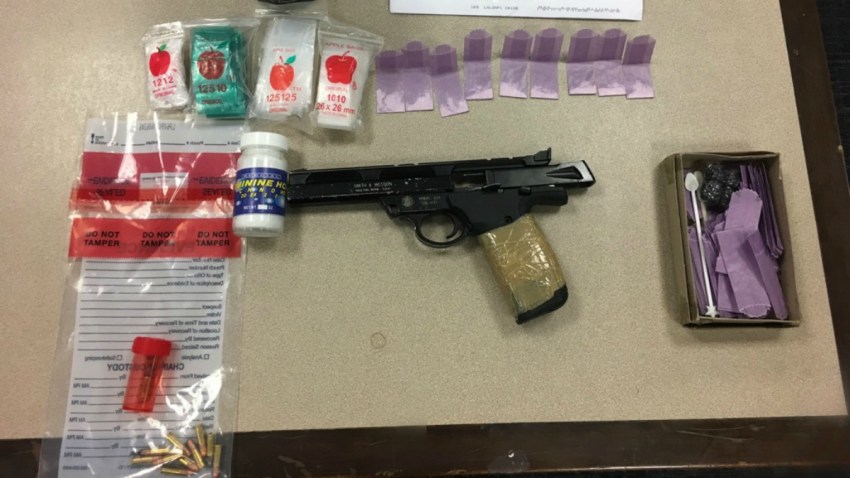 Hartford police said that they have arrested a man on drug and firearm charges after a brief foot chase on Friday night.
According to police, at 9:47 p.m. officers conducting a "Hot Spot" search in response to an increase of gun incidents in the area of the city's North District, observed a vehicle parked in the area of 221 Sisson Avenue.
Upon approaching the car, the officers were pushed by the vehicle's front passenger who began to flee the scene on foot, police said.
According to police, the suspect was subsequently apprehended in the area of Fales Street following a brief pursuit and was found to be in possession of crack cocaine and heroin packaged for street level sales.
Following this, a police investigation made with the assistance of the Drug Enforcement Administration and the Bureau of Alcohol, Tobacco, Firearms and Explosives led authorities to apartment 205 at 221 Sisson Avenue, police said.
According to police, the sole resident of the apartment gave consent to a search where officials located a firearm as well as various items used to manufacture and package heroin.
In total, police said they recovered a .22 caliber pistol with 11 live rounds, various narcotic paraphernalia and packaging, a single plastic bag containing crack cocaine and nine purple wax sleeves containing heroin.
Police said the recovered gun was found to have been stolen from Weybridge, Vermont during a 2013 home invasion.
According to police, the accused, 39-year-old Howard King aka "Wow" of South Marshall Street in Hartford was arrested and charged with criminal possession of a firearm, possession of a stolen firearm, violation of a protective order, interfering with police, possession of narcotics, possession of narcotics with intent to sell, drug factory charges and possession of paraphernalia charges.
King, a convicted felon with multiple prior firearm related arrests in Hartford, was additionally served two outstanding violation of probation warrants for the State of Connecticut, police said.
According to police, following a debriefing King was transported to the Hartford Police Booking Facility for processing.