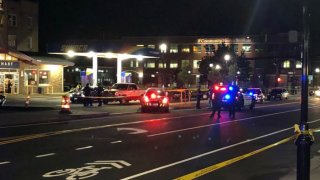 Multiple people, including two teens, were injured in a shooting in Hartford Wednesday, according to police.
Police said responded to ShotSpooter activations in the area of Albany Avenue and Burton Street and Albany Avenue and Garden Street around 8:20 p.m.
Three people were shot, according to police. One was transported to the hospital by first responders. Two others arrived at St. Francis Hospital with non-life-threatening wounds. A fourth was injured by glass debris from a car that was hit during the shooting.
Two of the shooting victims are 16 years old, police said. The third is 26.
Police believe all the incidents are related. No one has been arrested.
Albany Avenue is closed for the investigation.
This is a developing story. Check back for updates.