Hartford police say they have located a vehicle involved in a deadly hit-and-run crash on Hillside Avenue Monday.
Police say they received a call just before noon Monday reporting a hit and run, occurring just after the intersection of Hillside and New Britain Avenue.
When officers arrived they found 55-year-old Sharlene Mansfield in the street, and unresponsive. She was transported to Hartford Hospital where she was pronounced dead just before 2 p.m.
Officers on patrol located the suspect vehicle, described as a gray 2018 Hyundai Sonata with Connecticut plates AU88355 and heavy front-end damage, Tuesday on Farmington Avenue in Hartford.
Police said a person who was in the area of the vehicle did try to run from police and was taken into custody. That person had an active warrant and it is unclear if he has anything to do with the hit-and-run case or the car, police said.
The car was reported stolen out of Ellington on August 2. Police had released a photo fo the car to the public Tuesday afternoon.
Police have collected and reviewed surveillance video, which NBC Connecticut viewed as well but has chosen not to air due to its graphic nature. In the video, the suspect's vehicle can be seen coming into the frame just after Mansfield was struck, driving on the wrong side of the road.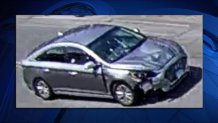 Police are urging anyone with information to call 860-722-TIPS.