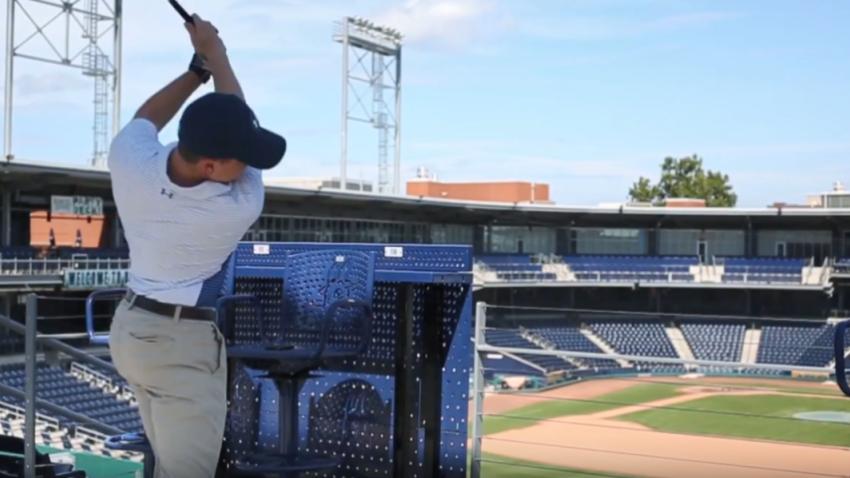 What to Know
The Hartford Yards will be hosting a golf event called "Links at the Yard" at Dunkin' Donuts Park on Sept. 27-30.
Golfers of all abilities can play a course with nine Par 3 holes. Twosomes and foursomes are welcomed with the price being $52 per golfer.
Tee time reservations are recommended and will run every nine to 10 minutes from 9 a.m. to 7 p.m.
The Hartford Yard Goats announced a four-day golf event to be held at Dunkin' Donuts Park in September.
Golfers of all ability levels will be able to play nine Par 3 target-style holes throughout the ballpark September 27-30. Golfers can select to play in twosomes or foursomes.
"We are excited to bring another creative and fun event to Dunkin' Donuts Park that accentuates the flexibility of this beautiful venue, and continues to deliver on the promise of the park being about more than baseball," Yard Goats President Tim Restall said. "We are also working with our friends at the Travelers Championship and the First Tee of Connecticut to enhance the golf experience."
The event will run from 9 a.m. to 7 p.m. each day with tee times every nine to 10 minutes.
The course layout of "Links At The Yard" was coordinated in partnership with local PGA Professional Pete Seaman and award winning golf course development firm Dusenberry Design.
The longest hole will be about 135 yards. The tees will be throughout elevated areas of the ballpark.
While a selection of Callaway golf clubs will be provided at each hole, golfers are invited to bring their own. No drivers or woods will be permitted, only irons and wedges.

"We are excited to partner with the Yard Goats on the Links at the Yard this year," Callaway Golf Senior Marketing Manager Nathan Adelman said. "They have so much energy and passion for creating an authentic and unique golf experience in their new stadium, and Callaway is happy to be a part of that. After bringing stadium golf close to our headquarters in San Diego, we're thrilled to have stadium golf near our golf ball manufacturing plant in Chicopee, MA."
Local golf courses Keney Park and Goodwin Park partnered with the team to help organize the event.
The Yard Goats continue to look for ways to have the ballpark be close to a year-round facility with added events beyond baseball, including holiday parties at the G.O.A.T. Brew Fest.
The price for the event is $52 per golfer. A limited number of spots are available.

Tickets to Links at the Yard are availabe through the Yard Goats website, by calling 860-246-GOAT (4628) or in person at the Click It or Ticket Box Office at Dunkin' Donuts Park.
The Hartford Yard Goats are back at home Friday, Aug. 10 against the Bowie Baysox.
NBC Connecticut is the proud media partner of the Hartford Yard Goats.