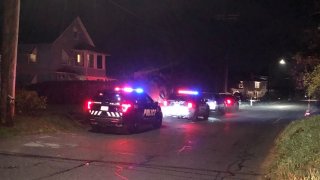 One juvenile is dead and another in critical condition after an incident at a home in Plymouth Friday.
Connecticut State Police said crews were called to a home on North Main Street in the Terryville section of Plymouth around 7 p.m. When they arrived they found two people, who they described only as juveniles, inside with serious injuries.
One of the victims has died, police confirmed, and the second is in critical condition at Connecticut Children's Medical Center. Police could not provide any details on the specific ages of those involved.
Police said they did receive a 911 call from someone at the home, but did not provide specifics.
This appears to be an isolated incident and that there is no immediate danger to the public, police said.
The Connecticut State Police Western District Major Crimes division is investigating.