9:00 P.M. Update: As we expected strong thunderstorms rolled through between 4 p.m. and 7 p.m. While there was a report of nickel size hail in Higganum the storms mainly behaved otherwise with occasional pea size hail, lightning and heavy rain.
There were several reports of wind damage in Smithtown, Long Island and also a 58 mph wind gust at Mount Sinai Harbor to our south. Minor flooding is still expected on some rivers in the state as today's rain runs off.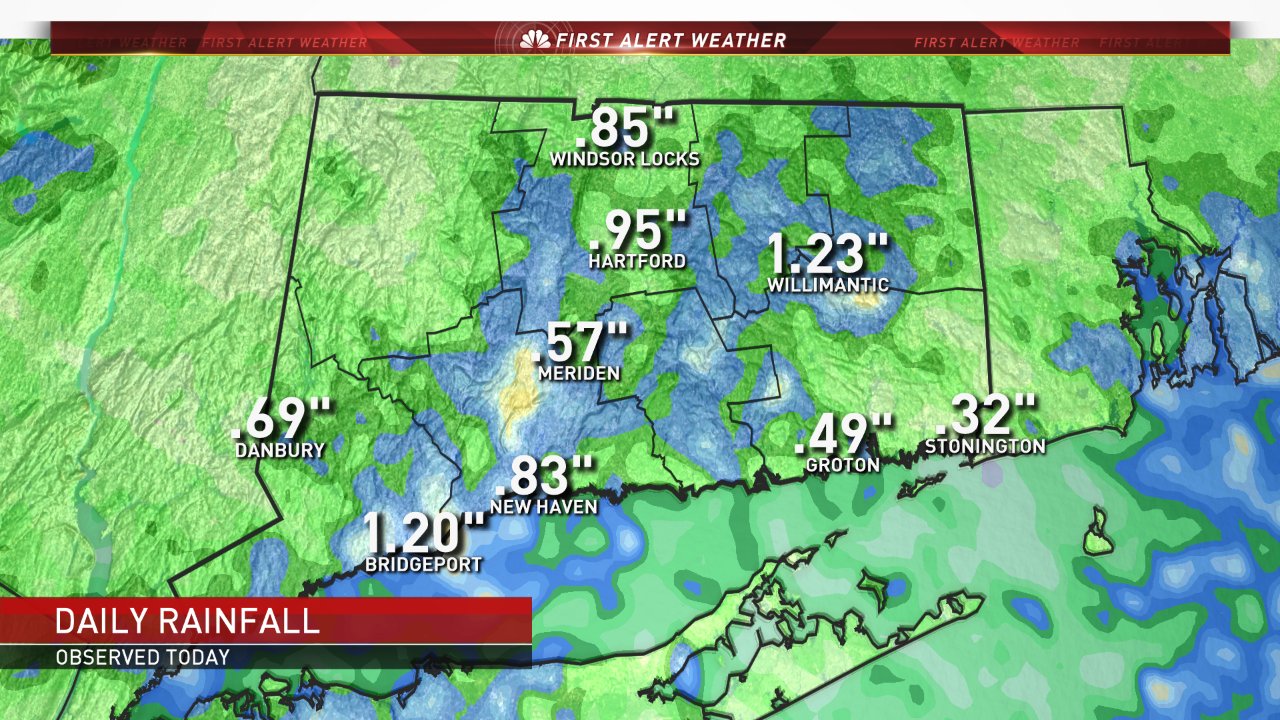 Rainfall totals in many areas did underperform as the storms were exceptionally fast moving (90 mph!) and there was a fairly large dry slot over Connecticut during the afternoon.
11:00 A.M. Update: Rain has tapered off for the time being but heavier rain will move back in this afternoon through early evening. Thunderstorms across the Mid Atlantic - from Washington, D.C. to North Carolina will approach later today.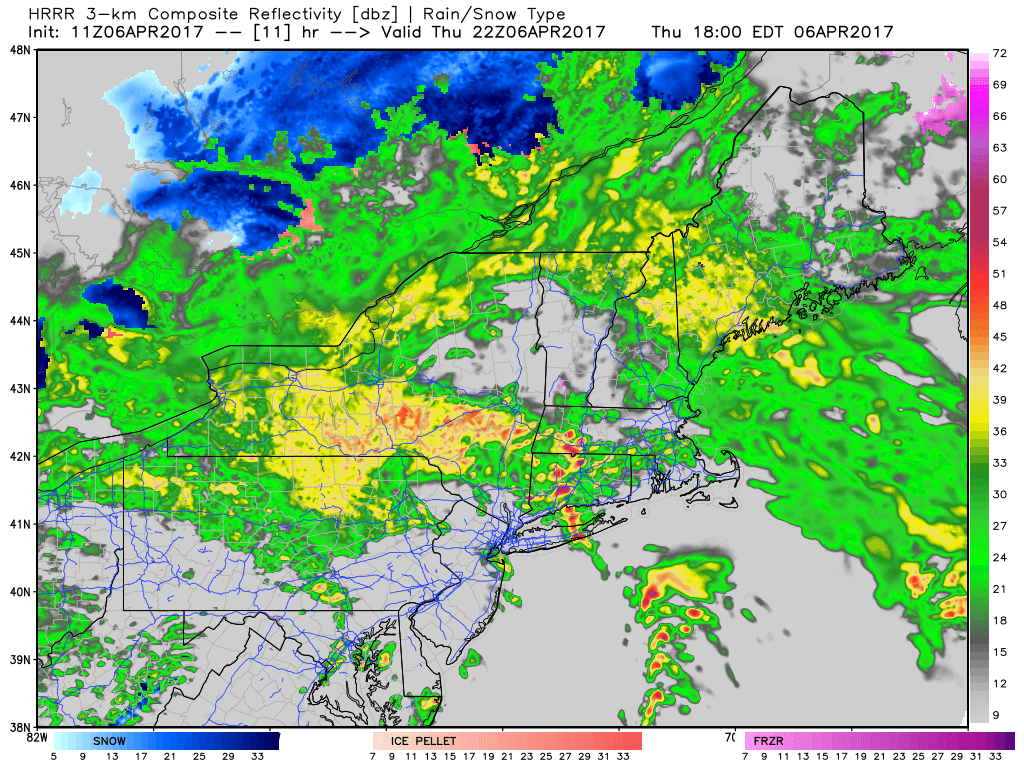 9:00 A.M. Update: The rain has arrived and there is the potential for some flooding this afternoon and early evening. There are a few things to note about today's flooding potential:
Flooding should be isolated and relatively minor. Rainfall amounts will likely fall short of what's needed for more widespread or significant issues.
Rainfall amounts of 1"-2" likely across the state - most areas will be closer to the 1" amounts, however.
Small rivers and streams may approach bankful and some urban areas may see poor drainage flooding.
Larger rivers (Farmington, Yantic, Quinnipiac, etc) should remain in their banks - flooding is not expected on these rivers.
The Connecticut and Housatonic Rivers should experience minor (typical in spring) flooding Friday and Saturday as swollen tributaries feed the two biggest rivers in the state.
One thing we will be monitoring closely this afternoon is the potential for strong thunderstorms between 4 p.m. and 7 p.m. While severe weather is not likely - I can't rule out a stronger storm. We have a very stable layer of air near the surface but there will be a significantly unstable layer just off the ground - we call this elevated instability.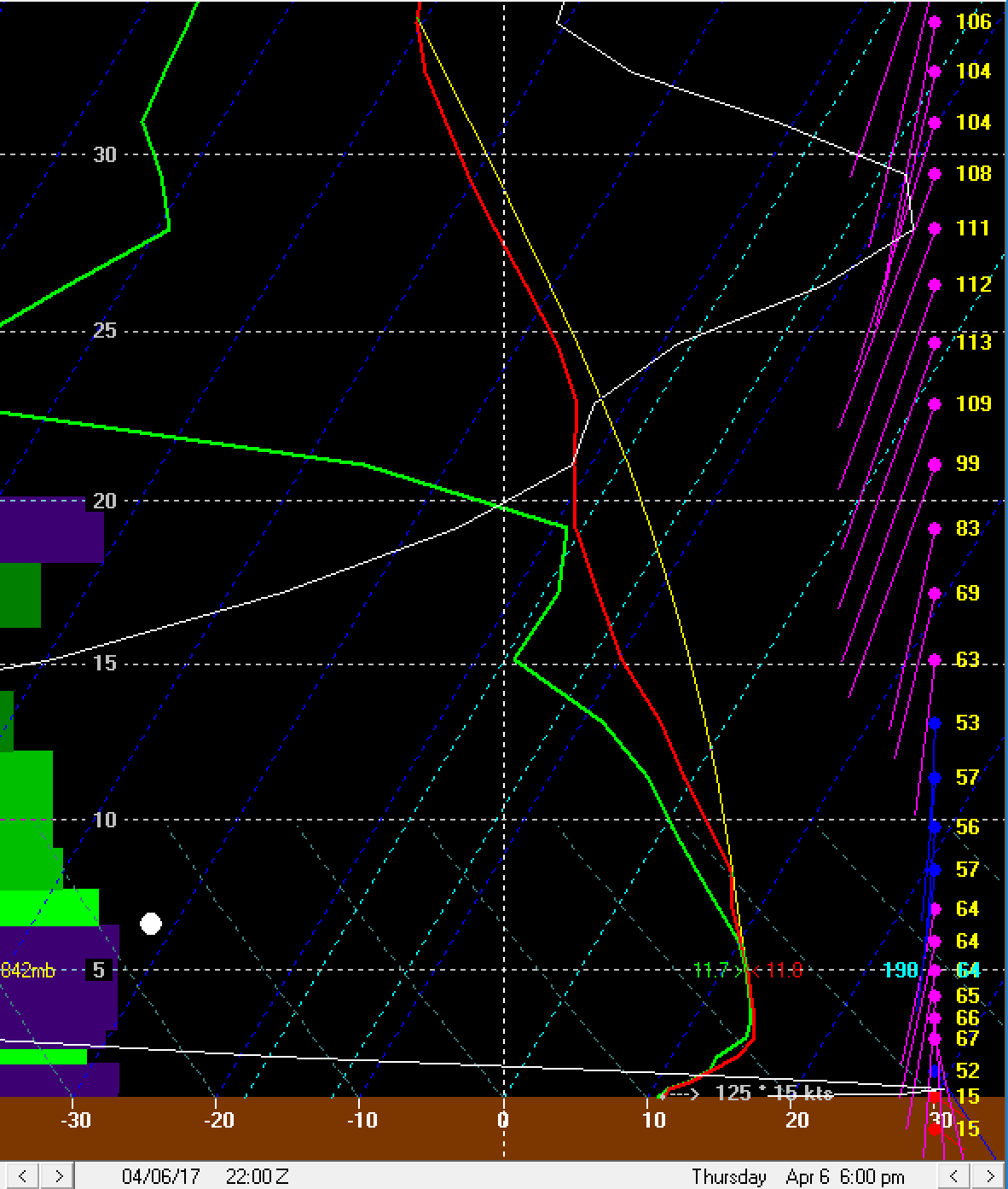 With this in mind I expect we'll see some elevated thunderstorms that could result in small hail, very heavy rain, and lightning. While unlikely, occasionally these thunderstorm can produce strong winds at the surface. Winds only 2,000 feet above the ground are near hurricane force so if those storms can punch through the stable layer near the ground we could see strong winds. Again this is unlikely but something we'll be watching closely.