Evening Update: The rain is pretty much done across the state and now we wait for round 2 to move into Connecticut tomorrow. The rain pretty much met our expectations with a band of heavier totals near the Connecticut shoreline (most of our high resolution models have been showing this) and slightly less rain around and northeast of Hartford. Here's some selected rainfall totals from our automated stations as of 8 p.m. across Connecticut.
Bridgeport - 1.69"
Groton - 1.65"
New Haven - 1.21"
Windsor Locks - 1.11"
Meriden - 1.08"
Danbury - 1.07"
Willimantic - 0.92"
Hartford - 0.65"
Our next rain event is already taking shape in the Deep South with a severe weather and tornado outbreak across portions of Mississippi. Most models show 0.5"-1.0" tomorrow across Connecticut - it will come in waves (won't rain the whole time) and it could be locally heavy. Our Short Range Ensemble Forecast shows about an additional 3/4" of rain at Bradley Airport which seems reasonable.
More rain - let's fill up those reservoirs!
Afternoon Update: Let me geek out for a second about the warm front that's moving through the Hartford area right now. There's a very, very shallow wedge of cold air stuck in the Connecticut River Valley north of Hartford. This is nothing unusual and it happens almost all the time we get a storm like this in the cold season. Warmer air is surging north and causing this shallow wedge of cold to mix out - and the temperature jump behind the warm front is substantial. These are mesonet obs across the Hartford area and you can see the difference. It's currently 55F at Brainard Airport but only 44F downtown. Along Rt 44 in the North End it's only 42F! In West Hartford and Newington the difference is dramatic as the temperature goes from 55F in Newington Center to 45F in Elmwood up Rt 173. Always cool to see these really small-scale features evolve. One other update is the back edge of the rain is moving in a bit earlier than forecast - the heavy rain will likely end from west to east across the state between 4 p.m. and 7 p.m. This may limit totals a bit in some areas though a widespread 1"+ is still expected. I'm no longer expecting a band of >2" of rain.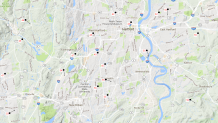 Midday Update: So far the rain has been light to moderate across the state though it is expected to increase in intensity this afternoon. The latest High Resolution Rapid Refresh model or HRRR brings in pockets of very heavy rain (hourly totals of 0.3" to 0.5") right during the evening commute between 4 p.m. and 7 p.m. Our current forecast of 1"-2" of rain with localized amounts of 2"-3" seems on track. One trend we've also noticed is that tomorrow's rain may wind up less impressive - but still beneficial. More on that soon.
Morning Update: No change to our morning computer guidance with respect to today's rain. Our high resolution computer models continue to highlight southern Connecticut as the area most susceptible to the heaviest rain (>2") today.
What's amazing is the amount of agreement there is between our high-resolution computer models. The SUNY Stony Brook WRF, the 4km NMM & ARW, and the NCAR WRF Ensemble all show that band of 2" just inland from Long Island Sound across the southern half of the state.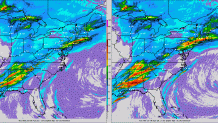 What is the cause of this? Like I discussed yesterday the biggest forcing mechanism for today's rain will be low level convergence at the nose of a powerful low level jet a few thousand feet above our heads. Additionally, low level frictional convergence in the Boundary Layer (strong winds over the ocean and Sound decelerate over land) will aid in this low level forcing coupled with a warm front that sets up right over the coastal plain. This is a classic setup for heavy rain in Connecticut.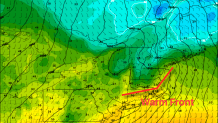 Putting it all together we're still on track for 1"-2" of rain with the rain picking up across the state through the day. There will be a narrow band of heavier rain (2"-3") - which appears most likely to happen in the southern half of the state. The HRRR time lagged ensemble shows good probabilities of over an inch of rain in 6 hours statewide.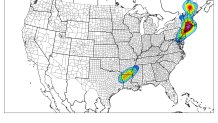 Even with all this rain - flooding is unlikely given the very low river levels and streamflows. While the rain will be heavy this is all good news for the state due to our ongoing drought.