NBC Connecticut First Alert meteorologists are tracking another week of heat and humidity.
High temperatures are expected to be at or above 90 degrees starting Tuesday, lasting into next weekend.
Comfortable air will start the week with low humidity lasting through Tuesday. The humidity begins to increase out ahead of tropical moisture by Wednesday and Thursday.
The remnants of what was hurricane "Barry" will likely spread showers, storms and high humidity into the state by Thursday.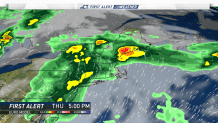 Friday through Sunday will be hot and humid and feel like 100 degrees.
Once that system passes, 90s still look likely with lower humidity lasting into next weekend.
You can get the latest forecast in your area anytime here.