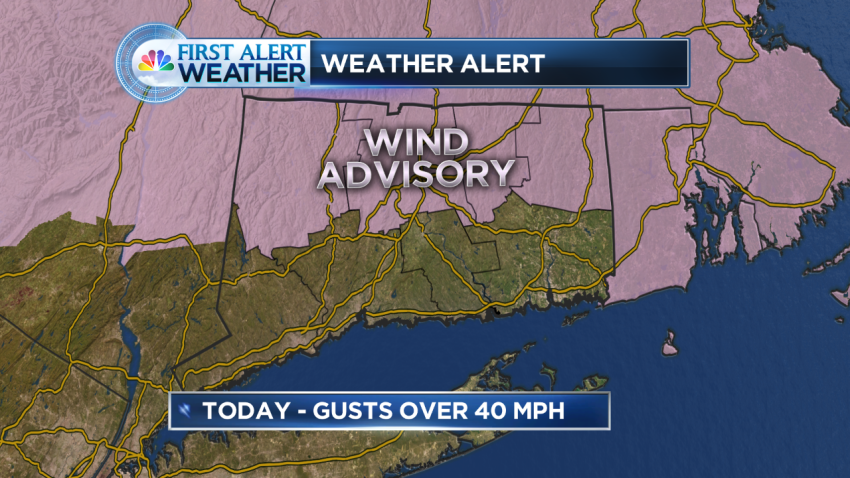 Following high wind gusts on Saturday that left more than 1,700 without power and knocked down trees and wires across the state, there could be some light flurries and rain on Easter Sunday.
The high winds knocked down trees and wires across the state on Saturday. A large tree fell on Russert Lane in Southington and the fire department said it was likely wind-related. In Simsbury, a tree fell on a car on West Mountain Road. West Rocks Road was closed Saturday between Bayne Street and Route 7 after a tree fell and snapped a utility pole. Wind knocked down wires, causing a brush fire nearby on Route 184 in Groton, which was closed as a result Saturday.
Hundreds lost power during the height of the wind. By 6:41 p.m., most power was restored to United Illuminating customers and 1,371 Eversource customers remained without it. That's in comparison to the 1,620 Eversource customers, mostly in Southington, Stamford, Weston, Wilton and Windham and about 156 United Illuminating customers in Fairfield who were without power at 5:15 p.m.
The northern half of the state was placed under a wind advisory Saturday as gusts traveled as fast as 40 to 50 miles an hour statewide.
After the wind dies down at sunset with winds continuing into the evening, a weak storm system moving in overnight could bring some light flurries in the morning on Easter Sunday, but we'll also have a sunny start to the day before rain moves in. Temperatures are expected to reach a high of 48 inland for a breezy Sunday.
Another weak system following that will likely bring rain and could mean a chance of isolated snow showers Sunday night in Litchfield County. However temperatures will warm up a bit, potentially reaching 56 degrees.
Tuesday will likely dip to 40 degrees and it will remain chilly through Thursday at around 44. Come Friday, the weather is looking milder, with the temperature reaching 59 degrees.