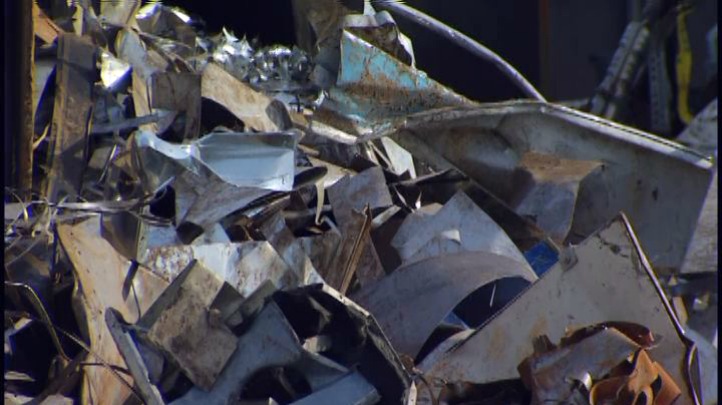 Scrap dealers in Connecticut are finding themselves on the front lines of a serious problem as scrap thieves try to sell them stolen metal to take advantage of high prices.
Thieves are stealing water faucets for their copper and they're ripping off metal plaques from war memorials. Thieves are even cutting bronze statues from cemeteries.
Business owner John Norton knows all too well what it's like to be victimized by scrap thieves, who've stolen from his scrap container in Southington in broad daylight.
"We actually had a guy come three times," Norton said. "Fortunately, the secretary caught him on the third time."
Norton's company makes steel basement doors. They scrap the material that they don't use. Norton sells the scrap to help pay for his employees' insurance and bonuses.
"This could tally up to $80,000 to $90,000 a year, so it could pay for two guys. Three guys," Norton said.
The theft is such a growing problem that scrap dealers in Connecticut must follow strict rules.
Scrap yards are required by law to document what they're buying, who they're buying it from and even photograph vehicle license plates.
"Many, if not, most of the dealers in our state understand the law, abide by the law and work very closely with law enforcement," Lt. Paul Vance of the State Police said.
NBC Connecticut set out to see if the scrap yards are following those rules.
Three area public works departments donated scrap metal for us to use in our investigation. We received old and unwanted manhole covers, street signs, light fixtures and brass knobs.
We visited five area scrap dealers to see how the items would be received. Most photographed our vehicles, weighed our scrap and recorded our information.
Some also asked how we got our items. All but one dealer paid us for our metal. One scrap business took a look at our street light and manhole cover and told us they could not accept them.
However, Alderman-Dow in New Haven did not check our driver's license when they bought several small brass fixtures from us for $4.
The manager later explained that the business has a system in place to take pictures and check IDs of sellers. He told us "scrap guys aren't the bad guys" and said our tiny transaction must have slipped through on a busy day.
We followed up with the scrap dealers, who acknowledge that there is a scrap theft problem. They all told us they make a habit of recording IDs and license plates and they report overly-suspicious items to law enforcement.
Jerry Green owns a scrap metal recycling business in Plainville. He's also the New England Chapter president of the Institute of Scrap Recycling Industries, a group that is taking steps to stop scrap theft.
"We try to partner with law enforcement and with the legislatures to get something that's really going to work for all of us to put a stop to this," Green said.
But the economy remains uncertain. People are looking for fast cash. And a building boom in China and the Middle East could mean Connecticut scrap metals may be in big demand for years to come.